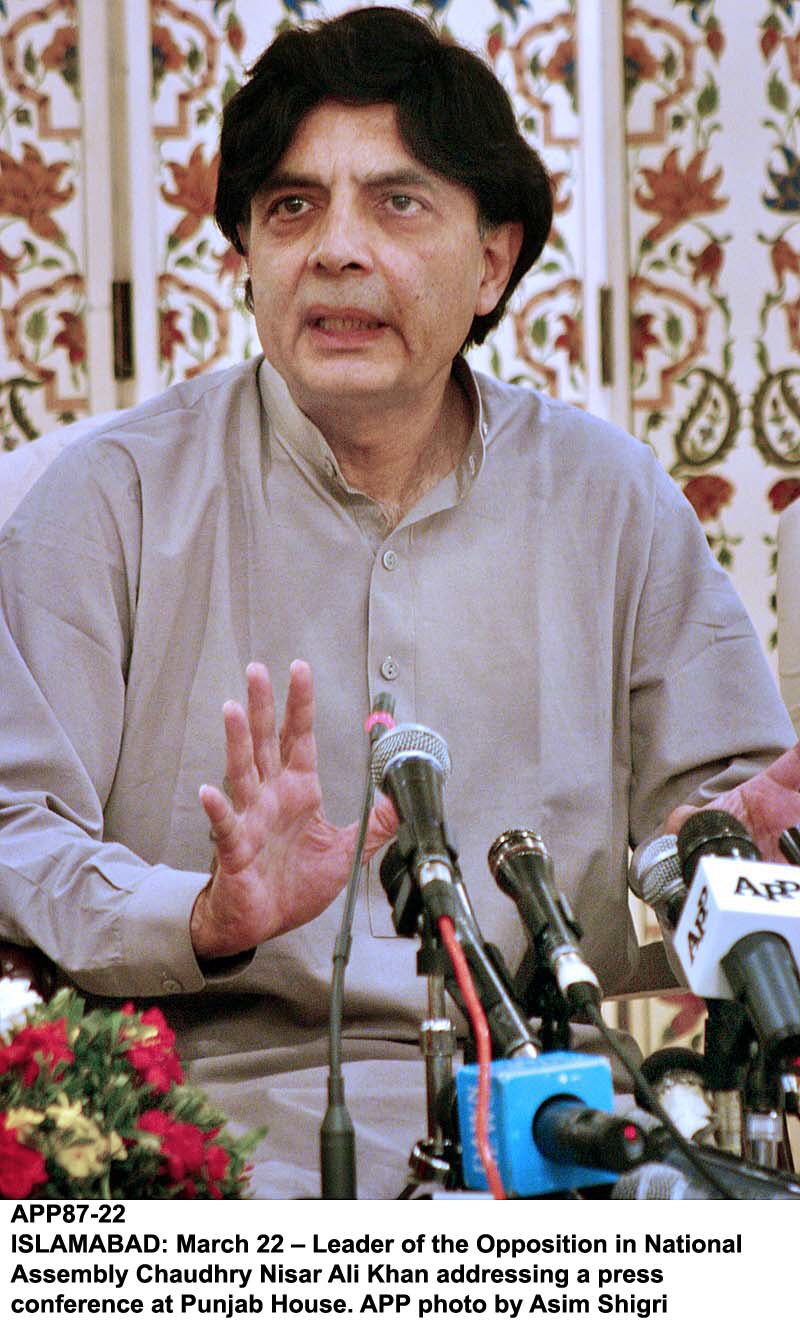 ---
ISLAMABAD: Interior Minister Chaudhry Nisar Ali Khan on Thursday promised that the national security policy draft will be finalised soon and that the government has initiated fresh efforts for dialogue with militants to find a durable solution of the menace of terrorism, according to Radio Pakistan.

Addressing 170 senior civil and military officers' including 14 from other countries' participating in the National Security and War Course at the National Defence University in Islamabad.

Nisar said the government is in the process of finalising the National Security Policy to effectively counter militancy and extremism.

The minister explained that the enemy is vague and divided while he claimed that the national security policy was proactive in nature which would address problems currently faced by the country.

Dilating on the policy, Nisar said that it will have have three components — secrecy, strategic, and operational.

Further, he said that NACTA will become the focal point for counter-terrorism efforts and a Joint Intelligence Directorate will be established under this agency for intelligence analysis and coordination among various intelligence agencies.

Dialogue with militants

On the contentious subject of talks with militants, Nisar said that though the dialogue process with the militants had been disrupted with the drone strike that killed then Tehreek-e-Taliban Pakistan chief Hakimullah Mehsud, the government had made efforts to restart this process.

Nisar said that the government wants a durable solution to terrorism and that use of force will be a last resort.

Stopping drone stikes

The interior minister said that it has been categorically communicated to the US that drone strikes are counter-productive and must immediately be stopped and that this continues to be an irritant in the Pakistan-US relationship.

Earlier on Thursday, Nisar also briefed Prime Minister Nawaz Sharif over the counter terrorism strategy and the Karachi situation.
COMMENTS (10)
Comments are moderated and generally will be posted if they are on-topic and not abusive.
For more information, please see our Comments FAQ