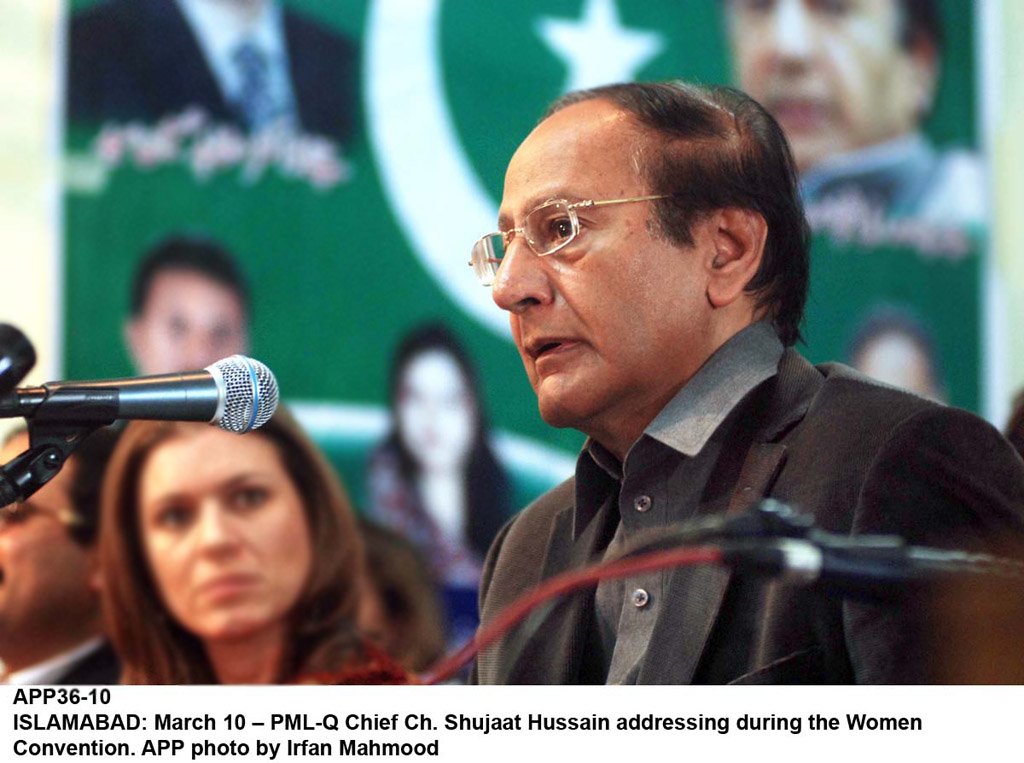 ---
ISLAMABAD/ LAHORE/ KARACHI:



Voices of silence are gradually coming to the fore.




Former aides of General (retd) Pervez Musharraf broke their silence on Monday to defend their old mentor against treason charges. Chaudhry Shujaat Hussain – former prime minister and chief of Pakistan Muslim League-Quaid (PML-Q) – went as far as offering himself for trial alongside the former military ruler.

Currently, a three-judge special court is trying Musharraf for proclaiming emergency rule in the country on Nov 3, 2007. However, Shujaat says if the government seriously wants to try Musharraf, then it should try him as well as his aides for the 1999 coup, and not just the 2007 emergency.

Speaking in the upper house of parliament, the former premier demanded the government to initiate cases against the former army chief General Ashfaq Parvez Kayani as well as himself and his cousin Pervaiz Elahi if it intended to see a 'fair' trial against Musharraf.

"Pervez Musharraf is not a traitor. Neither was he all alone in his actions. His aides were also there. If you want a fair trial then you should initiate cases against Kayani and Elahi too," Shujaat told the lawmakers.




In the same breath, he added, "Chaudhry Shujaat offers himself for this case and [former chief justice] Iftikhar Mohammad Chaudhry should also be there."

Shujaat took serious exception to the use of word 'traitor' for Musharraf. "An army chief cannot be a traitor," he added. "This word should be omitted from the Constitution and replaced with 'law breaker'."

"To call our own army chief who led the army for years a traitor is an insult," he said. "Politicians have contested the elections under this so-called traitor and many of you even took oath as ministers from the same traitor," he said, addressing the PML-N lawmakers who had joined former premier Yousuf Raza Gilani's first cabinet as ministers.

In response to Shujaat's comments, PML-N Senator Mushahidullah Khan said Musharraf had abrogated the Constitution and should be held accountable.

"We are not interested in hanging him or putting him in prison for life. But we want to set a precedent so that no one can dare to abrogate the constitution in the future," he said, adding that all political parties should appreciate this historic move.

"Some politicians suggest trying Musharraf for October 12, 1999. We know they will again demand to initiate the case from Gen Ziaul Haq and then from Iskander Mirza when we go to 1999," Senator Khan said.

Senator Shujaat didn't take the argument lying down. "If the government is seriously interested in trying Musharraf for Nov 3, 2007, then it should at least involve all those who were consulted by Musharraf before proclaiming emergency rule."

Separately, another PML-Q central leader and former deputy prime minister Chaudhry Pervaiz Elahi said that branding a former president a traitor is "not a good tradition". Elahi was speaking to the media on the death anniversary of the late Jamaat-e-Islami (JI) ameer Qazi Hussain Ahmed at his residence.

In criticism of the incumbent government, Elahi said that "when lust for power was involved everything was OK," adding that the PML-N had contested two general elections overseen by Musharraf.

MQM smells conspiracy

Echoing Shujaat's views, the MQM chief, Altaf Hussain, said that blaming only Musharraf for enforcing emergency or martial law and letting others off the hook is a conspiracy against the country.

"If cases have to be filed against Musharraf under Article 6, then instead of the Nov 3, 2007, they should be heard from the 0ct 12, 1999."

He said that those who were holding Musharraf responsible for the emergency rule and wanted him to be hanged to death were unfair and unjust in their demand.

He said that Musharraf was being ridiculed only on being a 'Mohajir'. This is the insult of not only Musharraf but over 30 million Muhajirs and we are ready to respond to this exceptional ridiculing behaviour by all means, he added.

Published in The Express Tribune, January 7th, 2014.