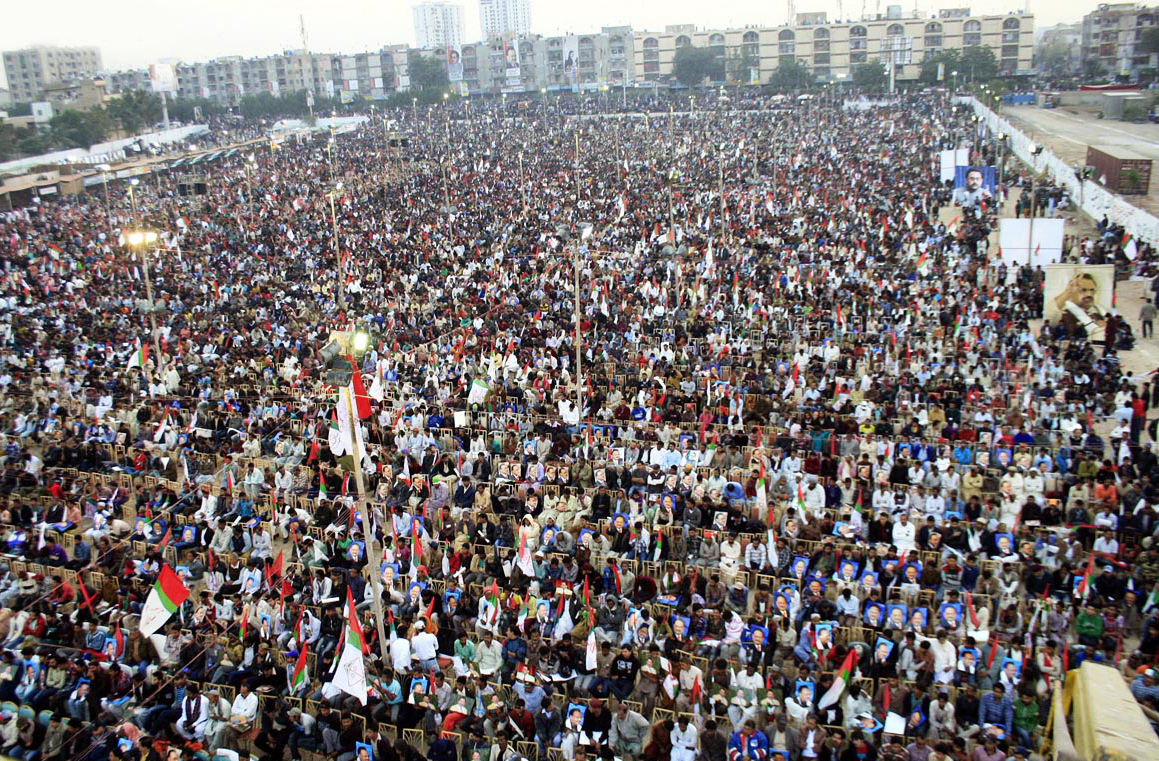 ---
KARACHI: Muttahida Qaumi Movement chief Altaf Hussain lashed out at his opponents once again, clarifying his earlier remarks about a partition in Sindh. The MQM chief said that "Sindh is Mother and must never be partitioned, but one has to look at last resorts when no other option is left," reported Express News.

Altaf was addressing a large public gathering on Sunday in Karachi, where he used the terms 'Sindh number one' and 'Sindh number two' to talk about hypothetical provinces, one for PPP supporters and the other for people from various ethnic groups who are being denied their rights.

"I say to PPP members today, that is, to Sindh's 'number one' — you might as well make an official declaration because you have practically already done so with your actions — that you are the owners of Sindh number one...but at least let Pathans, Sindhis, Kashmiris, Baloch, Punjabis and Urdu-speaking people live in Sindh number two," Altaf said.

Delimitation

Altaf once again criticised the delimitation of constituencies.

"PPP deliberately delimited constituencies to manufacture a PPP win in every constituency, and they said, 'We're in the government and can do whatever we can.' My foot [tumhari aesi ki taesi!]!"

"We had no option but to go to court. The court heard the case for several months and then gave a verdict."

Altaf also spelled out the court verdict and stressed on how it "exposed PPP's shenanigans for everyone to see".

Altaf read out the Sindh High Court's verdict, emphatically repeating the court's words 'gerrymandering' and 'discriminatory' to describe the PPP-led government's delimitation exercise.

On 'treasonous remarks' from other parties

The MQM chief lambasted "certain anchorpersons" and a "particular program" for distorting his words and messages.

He added that it was regrettable that if anchorpersons and columnists spoke or wrote in favour of the "MQM's truth" they were labelled as "sold out".

Altaf Hussain complained that representatives from various political parties went all out against his statement on dividing Sindh, declaring it treasonous and worth condemning as no such remark was made.

The MQM chief provided an example of how his words were being distorted, as compared to other politicians:

"If the ANP say that 'if Kalabagh Dam is built, we will tear those who build it to pieces, will bomb away the country, then it is considered acceptable!"

"Maulana Siraj of Jamaat-e-Islami said that if the federal government did not give Khyber Pukhtunkhwa its due share of resources, then there people should get prepared for a December 16, 1971 like, Bangladesh-like situation. And that was acceptable! No one created a hullabaloo over that!"

The MQM chief also blasted Jamaat-e-Islami and Munawar Hasan for the labeling of Hakimullah Mehsud a 'shaheed'.

Alluding to building pressure on his party, Muttahida Qaumi Movement (MQM) chief Altaf Hussain said the MQM is, "ready to fight, even when all doors close from all sides".

He reminded his opponents:

"Who got the NFC Award for Sindh, PPP or MQM?"

"Who stopped the Kalabagh Dam from being built, PPP or MQM?...Let me tell you, Kalabagh Dam will eventually be built and PPP members will scamper away from the matter like they scampered away from the corpse of Zulfiqar Ali Bhutto."

He claimed that all PPP members will eventually join other parties.

War of words

Today's rally follows directly after Altaf's recent speech in Hyderabad on Friday, where he stated that if urban, Urdu-speaking Sindhis were not given the same rights as rural Sindhis, then Pakistan People's Party should consider creating a separate province for the "Urdu-speaking Sindhi populace".

Altaf's words caused an uproar in the media and his demand was condemned by PPP leaders, and called a possible bid to divert attention from more important issues. MQM leaders said Altaf had never called for a separate province.
COMMENTS (51)
Comments are moderated and generally will be posted if they are on-topic and not abusive.
For more information, please see our Comments FAQ