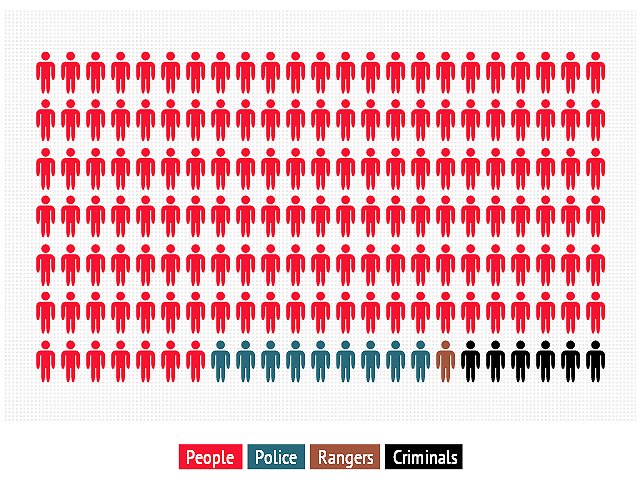 ---
KARACHI: Despite highly publicised and much touted operations by law enforcement agencies (LEAs), 2013 has gone down in history as the bloodiest year so far for Karachi with 2,700 people killed and crime soaring  past 40,000 reported incidents.

Data released by the Sindh Police and Rangers shows that even though LEAs were seen to be in constant action, crime soared to 40,848 incidents of reported crime, even as thousands of criminals were arrested, raising questions about the gains claimed by the government.

[infogram url="

Crime busting stats

With the Karachi police unable to effectively take on criminals across the metropolis, Rangers were given police powers and tasked to spearhead crackdowns against criminals.

Newly released data shows police and Rangers claimed completing almost 9,229 targeted raids in which 13,906 suspected criminals were arrested. Additionally, 8,469 weapons were also recovered in these raids.

Despite such extensive action, 2013 saw incidents of heinous crimes such as killings, extortion, kidnappings, robberies, theft, terrorism, remain at all time highs, similar to trends seen in 2012.

While 181 target killers were arrested (69 by police, 112 by Rangers), the data provided shows that 2,715 people were killed in the year.

[infogram url="

The word 'cracker', a term for a tennis ball filled with explosives to make a crude improvised explosive device, became a household name in 2013, while bomb blasts now regularly mark turn of events. Yet law enforcement agencies reported the arrest of just 33 terrorists (19 by police, 14 by Rangers) in the year.

Extortion? What extortion?

In the days before the year ended, a minor was killed when a grenade was hurled into a house in PECHS locality of Karachi. Though police suspected that the incident was related to extortion, the owner of the house was reluctant to divulge that.

Police also suspected that a blast in the car of a travel agency owner was caused by explosives planted by extortionists. With estimates that only a third of extortion cases are reported, these and many other cases did not make it into police's list of 519 reported cases of extortion in the year.

[infogram url="

The fact that these incidents took place towards the end of a year in which law enforcement agencies claimed to have arrested 253 extortionists (101 by police, 152 by Rangers), shows that the fight is nowhere close to being won.

With 3,086 robberies in the year, including 28 bank robberies, and 10,501 reported mobile snatching, police and Rangers could arrest only 321 robbers and 149 street criminals.

[infogram url="

The largest group of criminals arrested by law enforcement agencies was of absconders in various court cases -- 3,356.

The second largest group of people arrested were those booked under laws for carrying guns (2,454) while 2,841 small arms were also recovered.

[infogram url="

A total of 1,441 people were booked under anti-narcotics laws, forming the third largest group of people arrested for heinous crime.

In all, success in capturing the most deadly criminals was low.

Vehicle theft and snatching though were the most reported crimes in the year with 26,352 cases reported. Of these, there were 22,284 cases of motorcycles being either stolen (16,083) or snatched (6,201). There were 4,068 cases of four wheelers being either stolen (3,222) or snatched (846).

[infogram url="

September impetus

With over 2,000 people killed by September in the city, it was no secret that a crisis was brewing in the country's financial hub.

Perturbed, newly elected Prime Minister Nawaz Sharif flew in to kick start remedial action. Taking all parties into confidence, and deciding on keeping the army in the barracks, a fresh assault on crime was announced in early September.

The Rangers data claims that of the 2,325 raids that they made in 2013, over half (1,283) were in the last four months of the year. These targeted raids yielded 43 per cent (1242) of the 2,874 people arrested in the year and 34 per cent (1,915) of the 5,628 weapons recovered.

[infogram url="

Though the bloodletting did not stop, police data claimed there were only half as many killings in September as compared to August.

Till the end of the year, the month-on-month graph of killings was in steady decline. Having peaked in March (318), the data claims that the daily average of killings for the second part of 2013 was almost half compared to the first part.

Other crimes were shown to be in decline too.

Kidnappings, dacoities, vehicular snatchings and theft, which peaked in July, were all shown to be down by almost half by the end of the year. However, in comparison to the hundreds of raids and thousands of arrests, the gains looked less impressive.

[infogram url="

Extortions, which peaked in September with 77 reported cases (after, jump in reporting them) was steady at the year's average number of 39 reported cases in December.

Deadliest year for LEAs

The year was the deadliest for law enforcement personnel as well. As many as 172 policemen were killed in the city, along with 19 comrades from the Rangers. In the same period, police and Rangers reported killing 105 criminals in 2013.

The Rangers were the more ruthless of the two LEAs, reporting as many as 48 criminals killed in 28 encounters.

[infogram url="

Full Sindh Police crime data for Karachi in 2013 can be viewed here.
COMMENTS (19)
Comments are moderated and generally will be posted if they are on-topic and not abusive.
For more information, please see our Comments FAQ