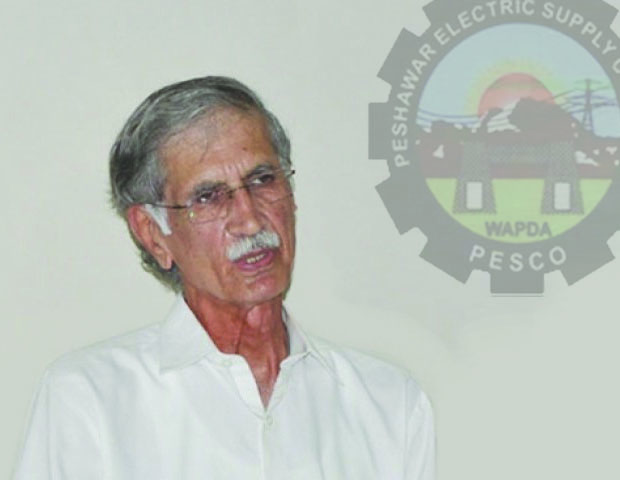 ---
KHAR/ KHAIRPUR/ PESHAWAR:



News of Peshawar Electric Supply Company's (Pesco) handover to the Khyber-Pakhtunkhwa (K-P) government elicited mixed reactions from the Pakistan Tehreek-e-Insaf (PTI) led provincial apparatus. While some officials welcomed the transfer as a positive development, others rejected the transfer in its current guise.




Discussing Pesco's transfer under the 18 Amendment, Minister for Finance Sirajul Haq told The Express Tribune, "K-P has not just asked for the handover of Pesco; the federal government will also have to bear the supply company's liabilities and losses. This is not mentioned anywhere in the transfer process."




The centre should devise a plan to bear Pesco's liabilities and losses, insisted Haq. He added political parties in the government will discuss these issues at a cabinet meeting on Monday (today). However, "in previous meetings it was decided the federal government would bear these costs."

K-P is like other provinces in Pakistan; it wants to move in line with the rest of the nation in terms of development, said Haq. It is the constitutional right of provinces to be given profits of whatever they produce, but "the federal government is not fulfilling its promises."

The minister reiterated the centre needs to chalk out a "complete plan" regarding Pesco.

According to Haq, the Malakand-III hydel project was not completed by the federal government even though it possessed all resources needed; the project was ultimately finished by K-P, using its minimal means.

Talking about prolonged power outages faced by K-P, Haq said he understood the problem cannot be solved overnight.

Adviser to Chief Minister (CM) Shiraz Paracha told The Express Tribune CM Pervez Khattak welcomed the move of the federal government. "We do hope it will tackle this issue in a better manner by paying both liabilities and losses."

All political parties will be taken onboard as stakeholders for this issue, claimed Paracha. "It's a matter impacting all those living in K-P." Yet, he argued, the issue of hydel profit, net errors and losses cannot be left untouched and will be discussed by the provincial government and politicos.

Pesco's losses amount to over Rs100 billion; "a great amount which needs to be tackled. Electricity problems have to be resolved as energy is the lifeline of the country's economy."

However, positivity did not emanate from all PTI-led government quarters. Minister for Information Shah Farman rejected the federal government's intended offer of handing over control of Pesco to the K-P government. "The PTI-led government will not accept the offer in its present form."

Instead, Farman stated, K-P wants control of Pesco with "zero liability, and is not content with being handed over just the recovery and distribution system." He said the K-P government wants all its outstanding electricity dues cleared, including net hydel profits.

Farman confirmed PTI's protest against the power outages will commence from Monday (today).

Icy tiffs

Earlier, PTI had announced a demonstration with its coalition partners outside Wapda House, Peshawar on Monday. The decision was taken even though Pesco explained the latest round of load-shedding is due to the closure of canals and diversion of gas to industrial units.

"Excessive electricity and gas outages in Khyber-Pakhtunkhwa (K-P) have no logical grounds, " said Ishtiaq Urmar, PTI's information secretary, during a press conference at Peshawar Press Club on Sunday.

Allegations and counter-allegations between the federal and K-P government have been doing the rounds for the past several months. The state Minister for Water and Power Abid Sher Ali accused the province of having the highest power theft ratio while the K-P government states it should not be subjected to prolonged power outages as it produces excess electricity.

Pesco spokesperson Shaukat Afzal said: "The closure of canals and stoppage of gas to thermal power plants has led to prolonged power outages. This is happening throughout the country and not just in K-P."

He said the public is requested to conserve energy especially during the peak hours of 6pm to 11pm, adding industrial consumers also need to switch off alternate street lights and billboards.

Of plans and protests

Similarly, hundreds of tribesmen held a demonstration against prolonged power outages in Khar, the headquarters of Bajaur Agency on Sunday. The protesters marched towards the office of the political administration. They warned the political administration and Wapda officials to solve the problem by January 5, 2014.

Meanwhile, at a meeting in Haripur on Sunday, All Pakistan Tanoli Ittehad decided it will take to the streets against Wapda and the government if load-shedding is not stopped in Hazara division soon.

Published in The Express Tribune, December 30th, 2013.
COMMENTS (34)
Comments are moderated and generally will be posted if they are on-topic and not abusive.
For more information, please see our Comments FAQ