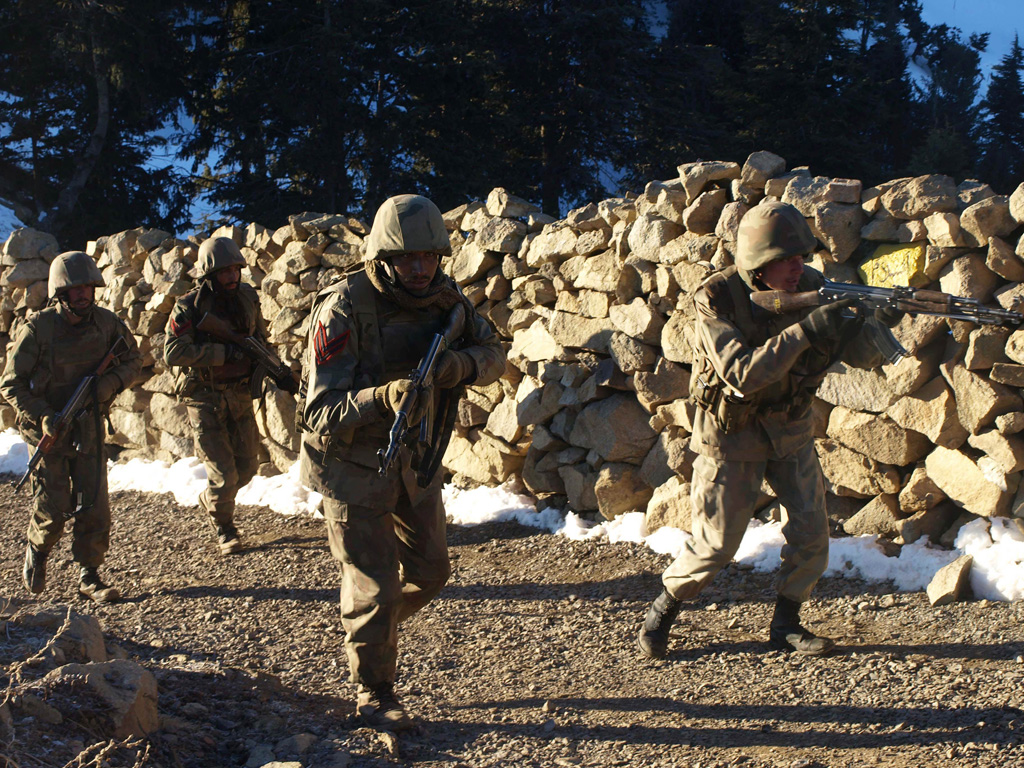 ---
ISLAMABAD:



Residents of North Waziristan claimed on Monday that dozens of civilians were killed during a military operation launched last week in the tribal region.




The operation was launched following a suicide attack on a military checkpoint on December 18. Military officials have claimed more than 30 militants were killed in the offensive.

Residents, however, insist that those killed were civilians.

"From the first day of the attack to up till now 70 civilians have been killed," said a tribal elder in Mirali. He asked not to be identified out of fear of reprisal.

"Some truck drivers and shopkeepers, and a hotel were shot at directly, and dozens were killed by gunships, mortars, and artillery shelling on the civilian population," he added.

Resident Muhammed Tayyab said he lost three of his children and wife in the shelling.




"On the first day of the attack an artillery shell hit the room where my kids and wife were sleeping," Tayyab told Reuters by telephone.

Residents of Mosaki and Hasukhel villages apparently fled the area.

"We are moving our families to keep them safe but the mortars and shells are following us," said Asad Sher of Mirali. "Please tell us where is safe. The troops are demolishing our homes and bazaars."

Malik Gul Salehjan, another man, said: "My children are asking me for bread but I am not able to give them anything because there is nothing in my house."

A North Waziristan administration official said tribal elders and army representatives convened a jirga, or meeting, on Monday to try to find a negotiated end to hostilities.

Army claims it targeted foreign fighters

The army reiterated on Monday that those killed in the operation in North Waziristan were militants.

"Security forces exercised utmost restraint to avoid any collateral damage," an official army statement said.

When contacted by The Express Tribune, a military spokesman reiterated that the offensive was carried out in response to an ambush by militants. He said it was based on intelligence gathered in a sting operation and was specifically aimed at nullifying foreign fighters holed up in a compound in the region.

"Over 30 militants, most of whom Uzbeks, were killed in the operation."

Reports from North Waziristan are hard to verify independently because journalists and observers are not allowed to work on the ground.

Speculation that the army might launch a major offensive in the frontier tribal areas has been building as the government's attempts to engage the Pakistani Taliban in peace talks have floundered in recent months.

Meanwhile, protests against the alleged killings of civilians were staged in different parts of Khyber-Pakhtunkhwa on Monday, as the army briefly relaxed the curfew imposed in North Waziristan in the aftermath of the December 18 attack.

The curfew was lifted between 2:00pm and 6:00pm, allowing residents to gather essential commodities.




Addressing a news conference, Ayesha Gulalai Wazir, a member of the National Assembly (MNA) of the Pakistan Tehreek-e-Insaf, said residents should have been given a chance to move out of the area prior to the operation.

While Wazir said the civilian casualties were 'unintentional', she warned that such incidents could fuel militancy. She urged the federal government to compensate those killed or injured in the North Waziristan offensive.

Published in The Express Tribune, December 24th, 2013.
COMMENTS (16)
Comments are moderated and generally will be posted if they are on-topic and not abusive.
For more information, please see our Comments FAQ