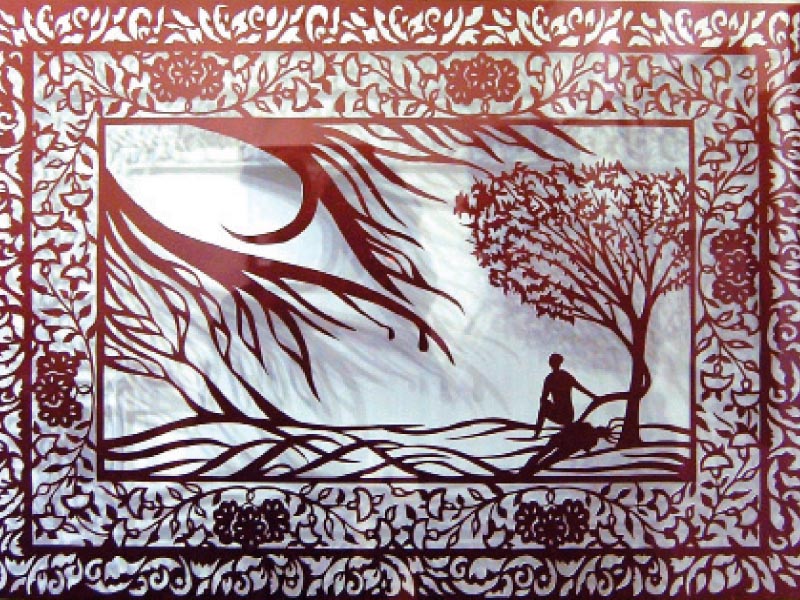 ---
ISLAMABAD:



Reminiscent of an ancient culture, the fine art of paper cutting has been resurrected by a contemporary Australian artist who showcased his work at the Nomad Centre and Art Gallery on Monday.




Titled "Shadow Art" the exhibition of Tusif Ahmed's work features a total of 19 pieces of Islamic art rendered in the traditional folk art of paper cutting, which evolved around 2,000 years ago in China and then travelled to Central Europe via the Silk Route, notably evolving with strong regional variations in Austria, Poland and Germany.

Each of the pieces is delicately hand-cut from a single sheet of paper. Ahmed's art is influenced by traditional Islamic patterns and symbols. He also takes a personal path in his storytelling-imagery, exploring the dynamic opposing forces --- love and beauty --- that shape trials and triumphs in life.

The artist has also juxtaposed the rare mediums of paper cutting and pen-and-ink sketches to introduce a new genre of art altogether. He has used the traditional Islamic art alongside geometric and calligraphic-inspired motifs and patterns. The pieces vary in shape, design and colour and the technique works well with lighting behind the mounts, leaving imprints and shadows on the walls.

Speaking about his work, Ahmed said, "I'm trying to create a shadow of different beliefs and spread the message of love, peace and harmony while also combining the common factors of different religions and faiths as a means to undoing the existing tensions in society."

Surrounded by a pattern of Islamic art, one of the pieces titled "The Crisis" hints at the 9/11 attacks, showing the twin towers exploding in one arch and a lopsided mosque in the other. "One is the crisis of Islam and the other is that of Christianity. None has gained anything out of the unfortunate event…nobody gains anything from hatred or destruction," said the artist explaining the piece.

His expression of love takes many forms: there is a depiction of maternal love with a woman cuddling her newborn baby, another of a woman surrounded by a solitaire wedding ring and yet another of Adam and Even in the garden of Eden with "God's eye watching over them." Along with fine detailing and finesse in the intertwined patterns, one can trace a heart-shaped outline in a majority of the pieces.

"I'm very inspired and intrigued by Ahmed's work because it has a very strong link between Chinese historic art and influences of Islam. Also, the work stands out for the intricacy in the making of these fine pieces," said Nageen Hyat, the gallery curator.

Sana Abrar, a government servant and visitor at the exhibition, said the skill and creativity of the artist was a novelty and spoke for itself.

The exhibition inaugurated by the Australian High Commissioner Peter Heyward will continue till December 31.

Published in The Express Tribune, December 24th, 2013.