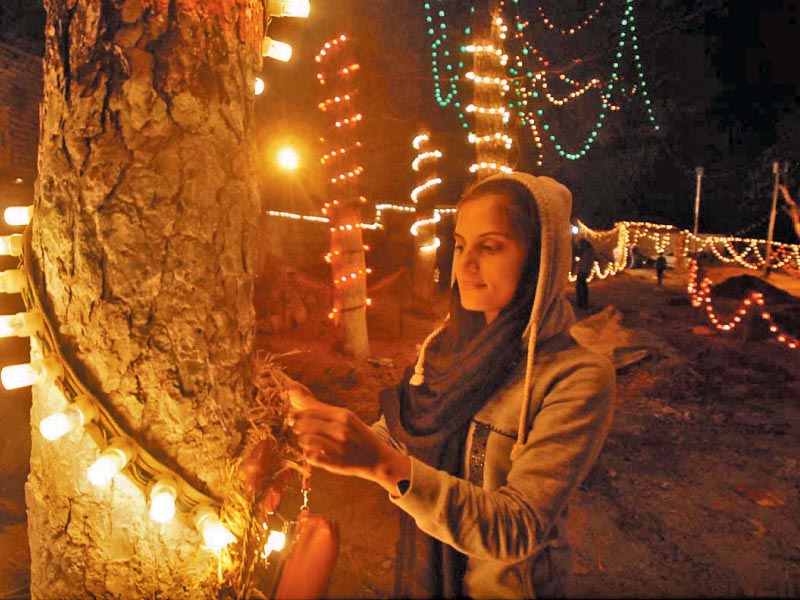 ---
PESHAWAR/ LAHORE/ KARACHI:



As Christmas preparations reach their zenith, the Christian community in Pakistan expresses its grievances, apprehensions and hopes as it vows not to leave this country, their motherland, come what may.




"We consider Pakistan our own country," said Alwin Edwin, the head of the English Department at Peshawar's King Edward College, "and we are not going to leave it in spite of discrimination and violence."

Edwin said it was not just the Christian community which was affected by terrorism. "No one is safe from terrorist attacks," he said.

However, Edwin is hopeful of a better future. "If you read the history of great nations, you will find that every nation in the past has passed through worse situations."

The leader of the Christain community in Mardan, Ilyas Masih said they were facing difficulties in Pakistan and particularly in Khyber-Pakhtunkhwa. "We are not going to leave Pakistan even after the recent surge in violence against Christians," he added.

Ilyas said he wanted the government to provide security on Christmas in view of the precarious law and order situation.

Nadeem Anthony from Lahore shared his disappointment at the condition of the minority, which, like other minorities, is denied the right to elect their own representatives, he said.

However, he refuses to leave the country, for which his forefathers sacrificed their blood.

"I am sure to get an asylum if I apply for it but I was born here and I want to die here," Anthony said.

Napoleon Qayyum, on the other hand, highlighted the declining conditions of the community. "Christians used to be very strong in the health and education sectors but the situation has changed now," he said.

"Since Zia ul Haq's time, Christians think they are living like prisoners in some ways and can be booked at any instant," Qayyum maintained.

"However, I don't plan to leave because I believe in struggling for the rights of my community. I will live here and keep struggling for the betterment of my community," he added.

Engineer and activist Roland de Souza of Karachi, also feels that "what Quaid-e-Azam said about rights and protection of other religions is no longer there".

Principal of Karachi's St Joseph's College Professor Bernadette Louise Dean said she felt herself as much a Pakistani as others. "My association with it will remain always. This is the best place for me."

She said she never thought of leaving because she wanted to make a difference in the education sector.  "What difference would I have made to the first world by going there? God chose me to be here and wants something from me."

Published in The Express Tribune, December 24th, 2013.
COMMENTS (2)
Comments are moderated and generally will be posted if they are on-topic and not abusive.
For more information, please see our Comments FAQ