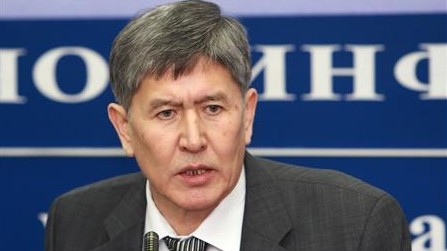 ---
BISHKEK: A top US diplomat arrived for talks with Kyrgyzstan's interim leaders on Wednesday about defusing a crisis in the Central Asian country, where Washington rents an air base to back its war effort in Afghanistan.

Russian President Dmitry Medvedev, whose government has close ties with the interim leaders and sees Kyrgyzstan as part of its post-Soviet sphere of influence, said the turmoil could result in a civil war and produce a "second Afghanistan."

US Assistant Secretary of State Robert Blake became the most high-profile American official to visit Kyrgyzstan since violent protests toppled President Kurmanbek Bakiyev on April 7. The US embassy said Blake arrived in the former Soviet republic overnight and Kyrgyz officials said he was due to meet interim leader Roza Otunbayeva for talks later in the day.

The future of the US Manas air base is certain to top the agenda for the talks in the capital Bishkek, where streets are still littered with debris after last week's uprising in which 83 people were killed. Bakiyev fled to his southern stronghold in Jalalabad after troops fired on protesters on April 7 and has refused to leave the mountainous country or resign.

The self-proclaimed government in Bishkek has threatened to send forces to detain Bakiyev if he does not quit voluntarily.

Raising for the first time the possibility of ceding power, Bakiyev said in his home village of Teyyit on Tuesday that he might resign if the new government guaranteed his safety.

Officials in the interim government said that a delegation was in place in the south to initiate talks, offering the prospect of a peaceful exit from a week-long crisis that has gripped the ethnically divided nation.

Washington is concerned the crisis would affect its five-year lease deal with Kyrgyzstan for use of the Manas air base. After last week's upheaval, members of Otunbayeva's government had suggested the lease would be shortened.

Russian Stance

Suggesting on Tuesday that it was time for Bakiyev to make way, Medvedev said: "As I understand it Kyrgyzstan is on the verge of civil war."

Medevedev told an audience at a think-tank in Washington, where he was attending the global nuclear security summit, that it was Russia's task to help the Kyrygz people find a calm way out of the crisis.

Russia also has an air base in the country and has long put pressure on Bishkek to evict US troops.

The interim government says it would pledge to abide by its agreements on Manas, but its pro-Russian sympathies have given rise to suspicions that the Kremlin may try to use the base as a lever in its relations with Washington.

Russian Prime Minister Vladimir Putin was the first foreign leader to call Otunbayeva after the revolt. Putin denied any involvement in Kyrgyzstan's upheaval. US Secretary of State Hillary Clinton followed suit two days later.

Otunbayeva's deputy, Almaz Atambayev, was in Moscow on Wednesday to discuss financial aid from Russia.

Bakiyev has made a number of public appearances in his stronghold in Jalalabad, guarded by dozens of men armed with AK-47s and wearing dark glasses and camouflage jackets.

He has brushed aside threats from the new government, saying that troops had reached a nearby town before turning back.

"No, I am not afraid of any special operations ... The forces they have at their disposal are not able to fulfil this," he told reporters. "It's not worth trying to intimidate me or the population of the south with the use of armed forces."