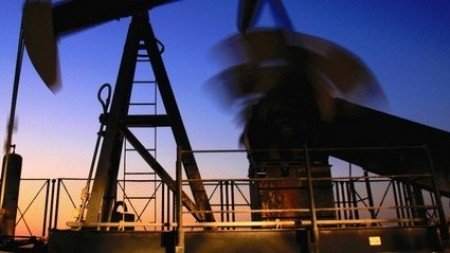 ---
LONDON: Oil prices rebounded on Wednesday before key US energy stockpiles data and as traders reacted to a forecast of stronger demand.

New York's main contract, light sweet crude for delivery in May, climbed 84 cents to 84.89 dollars a barrel. Brent North Sea crude for May gained 49 cents to 85.21 dollars.

The gains could be capped by the energy reserves report from the US government's Department of Energy (DoE).

"Today, the main focus will switch to the weekly inventories report, for a confirmation of the level of the US crude oil inventories," said Sucden Financial Research analyst Myrto Sokou.

The weekly snapshot of American crude inventories due Wednesday is a closely-watched indicator of demand in the world's biggest economy.

"It looks like most analysts are expecting another build in US crude stocks and it does seem like demand has not really rebounded to the extent that supply has and that's going to weigh on prices at this level," said Ben Westmore, a minerals and energy economist with the National Australia Bank.

Market expectations are that US crude reserves increased by 1.1 million barrels in the week ending April 9, according to analysts polled by Dow Jones Newswires.

Distillate stockpiles, which include diesel and heating fuel, are seen rising by 600,000 barrels, while gasoline (petrol) inventories are expected to drop by 700,000 barrels.

The International Energy Agency (IEA), which offers advice on energy policy to the Organisation for Economic Cooperation and Development (OECD), on Tuesday upgraded its forecast for global energy demand in 2010 by 30,000 barrels per day. It cited strong economic activity in the United States, Asia and the Middle East for its new projections.

However, the IEA also warned that oil prices above 80 dollars a barrel could hamper recovery from the latest global economic downturn. "Crude oil prices might remain in the 82-87 per barrel dollar area in the near term, following continuing good economic figures from the US and China and strong performance across the global equity markets," Sokou said.
COMMENTS
Comments are moderated and generally will be posted if they are on-topic and not abusive.
For more information, please see our Comments FAQ