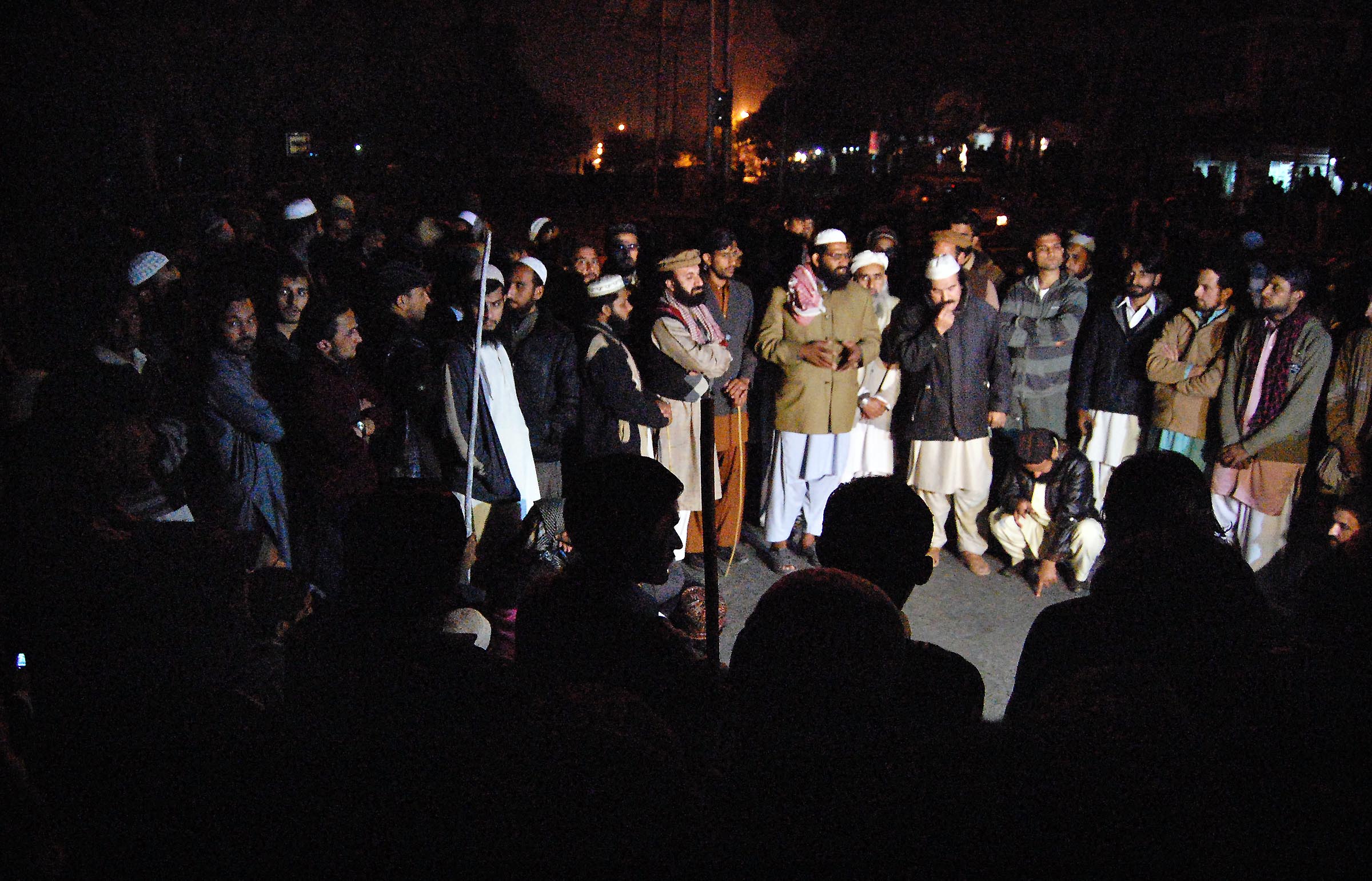 ---
LAHORE: Ahle Sunnat Wal Jamaat (ASWJ) leader Maulana Shamsur Rehman Muawiya was shot dead as unidentified motorcyclist assailants opened fire at his car at Ravi Road on Friday afternoon.

The Maulana was ASWJ's president in Punjab. He was on his way home from Muhammadi Masjid after Friday prayers when his car was attacked near Batti Chowk.

The post-mortem report revealed that the ASWJ leader was shot twice in the mid-riff, with a third bullet piercing its way through his neck into the head.

His driver was injured in the attack and was taken into custody for further investigation.

A passerby was also injured, but his condition is reported to be stable.

The ASWJ has announced a country-wide protest against the incident.

A large number of party activists reached Mian Munshi Hospital where Muawiya was rushed for treatment. Later the protesters followed the dead body to Mayo Hospital Dead House and held a protest demonstration at Nila Gumbad and The Mall Road.

Some of them pelted stones at shops, which were then ordered by the police to shut down.

The protesters kept The Mall road blocked for about two hours, demanding the arrest of those responsible for the murder.

Maulana Aurangzeb Farooqi the acting leader of ASWJ (Maulana Ahmed Ludhianvi) is abroad, has announced a boycott for Saturday.

His spokesperson Ghulam Mustafa Baloch told The Express Tribune that the funeral prayers for Muawiya will be held at the Masjid-e-Shuhada near The Mall.

He will be buried at the Mianmir graveyard near his residence.

Inspector General of Police in Punjab Khan Beg put the police on high alert and tightened the security of worship places including mosques and Imambargahs to avert any untoward incident after the incident.

Capital City Police Officer Ch shafiq told that they have collected evidence from the spot and formed two separate investigation teams to probe into the matter.

Chief Minister condemns incident


Punjab Chief Minister Shahbaz Sharif condemned the murder of Maulana Shamsur Rehman.

The CM sought a report on the incident from Inspector General Police Punjab and ordered that the criminals be immediately arrested.

He stressed upon the ulema to play an active role for the promotion of sentiments of forbearance, tolerance and maintenance of law and order.

He directed police authorities to beef up security of religious leaders and make foolproof security for the protection of worship places.

Shahbaz Sharif prayed for the departed soul, saying the Maulana was a prominent religious scholar whose religious services will be remembered for a long time.

Many members of ASWJ have been victims of target killings in the past year.

In 2001, Pakistan banned the sectarian group Sipah-e-Sahaba under pressure from the United States to crack down on militancy but the group changed its name to Ahle Sunnat Wal Jamat (ASWJ).
COMMENTS (12)
Comments are moderated and generally will be posted if they are on-topic and not abusive.
For more information, please see our Comments FAQ