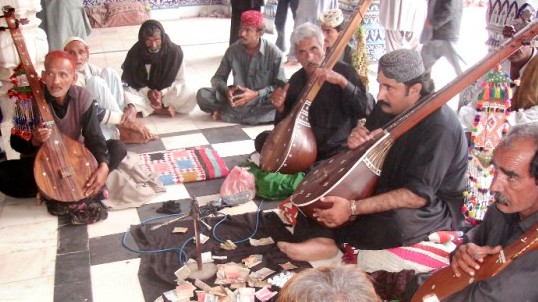 ---
KARACHI: Sindh is perhaps the only land in the world where one is willing to sacrifice one's life for Sur [melody], said Sindh Abhyas Academy founding-director Dr Ghazala Rahman Rafiq, quoting Beejal and Rai Diyach.

A colourful and informative event, titled 'Sindh is Alive: With the Sound of Music', was organised on Sunday by the academy of the Shaheed Zulfikar Ali Bhutto Institute of Science and Technology (Szabist).

Indigenous instruments of Sindh make its music melodious. Apart from the instruments, the distinct style of famous singers, such as Bhagat Kanwar Ram and Abida Parveen, add magic to the songs that make them rule the hearts of thousands of fans, she maintained.

Enumerating indigenous Sindhi instruments, Dr Rafiq said, Boraneendo, Narr, Chang, Dambooro, Gharro, Surando, Murlee, Alghozo and Banjo are some important instruments.




Sindhi music is classified in seven forms - folk music, folk-classical music, mystic music, Ka'afi Kala'am Gayeki, popular music, film music and revolutionary music. "Like other types of music in Sindh, folk music is diverse due to its variegated terrain - mountains, deserts and beaches," she said.

"The branches of Sindh's folk music are numerous just like its literature. Ceremonial songs hold particular importance as there is a song for every ceremony," she added.

According to Dr Rafiq, Mai Bhagi, Mai Soni, Kalo Faqeer, Shafi Faqeer, Sadiq Faeer, Mai Dhaai, Kareem Faqeer and Barkat Faqeer are some well-known folk singers of Thari [Tharparkar].

She said that there are many indigenous Sindhi Raags, including Koyari, Rano, Sohni and Sorath. Ustad Mitho Katchi and Abdullah Katchi are famous for folk-classical music while Ustad Manzoor Ali Khan, Ustad Muhammad Juman, Ustad Muhammad Yousuf, Abida Parveen and Seengar Ali Saleem are popular for Ka'afi Kala'am.

Bhagat Kanwar Ram, Bhagat Jarra Ram, Master Chandur, Sona Khan Baloch, Jeewani Bai, Mai Allah Wassai, Iqbal Begum, Syed Suleman Shah and Ghulam Rasool Nawabshahi were a few renowned names in Sindhi popular music in the past while Manzoor Sakhirani, Barkat Ali, Rajab Ali, Tameer Hussain, Sanam Marui and Shazia Khushk are a few famous names today.

Famous singer Zulfiqar Ali spoke about the importance of vocal music. "It has its own consonants and vowels. It is very inspiring," he said, adding that its meaning makes a song melodious."

"Zareena Baloch is a well-known vocalist of Sindhi Lok Geet," he said, as 'Loto Monkhe Aane De' of Baloch was played.

He briefed on Kafi, Lassi Kafi, Bhagat, classical Kafi, Shah Jo Raag, Sadarangi Kalam, Dastaan Goee, Yaktara Pota and Saang and played the popular singers' best performances.

During his performance, Ali also sung different songs and briefed about their vocal importance, saying they touch the listeners' hearts and minds.

Faqeer Allah Bachayo from Umerkot sung popular songs like 'Kithe Mehar Ali', 'Yaar Dadhi Ishq Aatish Lai Ae' and 'Sufi Je Soz Saaz Khe'.

A group of five members - Dilip Kumar, Bhagat Arjan, Bhagat Chuna Ram, Bhagat Nand Lal and Bhagat Khabar - from Tharparkar performed in Datki language and received applaud from the audience.

Published in The Express Tribune, December 3rd, 2013.
COMMENTS
Comments are moderated and generally will be posted if they are on-topic and not abusive.
For more information, please see our Comments FAQ