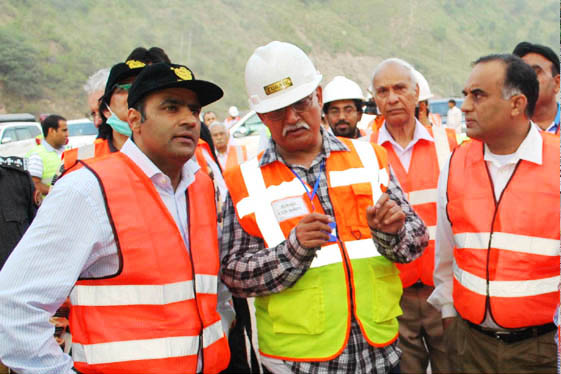 ---
HYDERABAD: The federal minister for water and power, Abid Sher Ali, has advised the Sindh government to clear its electricity dues, which have accrued to over Rs50 billion, within a month.

He was speaking at a press conference in Hyderabad on Thursday. According to Ali, the provincial government has more than 13,000 connections from the Hyderabad Electric Supply Company (Hesco) - the utility that provides electricity to 13 districts of Hyderabad and Mirpurkhas divisions. He added, however, that the Sindh government did not accept around 5,869 of these connections and asked Hesco to severe them immediately.

The Sukkur Electric Power Company (Sepco), which covers nine districts of Sukkur and Larkana divisions, has another 14,000 connections accorded to government departments. The government owes around Rs25 billion to each of these companies.

"The provincial government has been a defaulter since 2006. I have asked the power companies to disconnect their supplies if they don't clear the arrears within a month" he said. The minister's warnings are likely to elicit criticism from the Sindh government, which claims that the province is not only producing surplus electricity, but also supplying it to other provinces.

Ali, who also gave the Hesco officials a month's time to reduce the line losses to half, revealed that the company had suffered a loss of Rs4.5 billion in the last quarter, with around 551 million units unaccounted for. Sepco, he added, had lost 837 million units, which amounted to Rs13.5 billion in the last four months. "The officials of the two companies will face action and will be transferred to other provinces if they fail to control things."

WAPDA

The minister recalled how power production and distribution systems worked more efficiently under the defunct Water and Power Development Authority. "Irregularities have increased now. There are more sick units." He revealed that the federal government will either privatise or outsource the sick power distribution units. He added that the government is also devising a stricter law under which the electricity thieves will not be allowed bail against their offence.

Dams

In response to a question regarding Kala Bagh Dam, Ali said that the dam was not more important than Pakistan. He was hinting towards the conflict between the provinces regarding its construction. He added, however, that land acquisition for two other dams, the Diamir Bhasha dam and Dasu dam, had been completed.

WASA

Water supply in Hyderabad District dropped to less than half after Hesco cut off around 202 connections of the Hyderabad Development Authority on November 21. The company claims that HDA's unpaid bills have accrued to Rs6.3 billion. The minister asked Hesco authorities to give a month's relief to the HDA and its subsidiary, the Water and Sanitation Agency, to clear their dues. "In the interest of common people, I give one month to Wasa and HDA to pay their dues."

According to him, the connections of HDA and Wasa are among those 5,869 which the Sindh government doesn't accept. "The problem is, who will pay their bills?" he asked. Wasa, which was running its filtration and drainage systems through power generators for over a week, expressed its inability to pay the bills unless its own dues, which are reportedly in billions of rupees, were cleared by the provincial government.
COMMENTS
Comments are moderated and generally will be posted if they are on-topic and not abusive.
For more information, please see our Comments FAQ