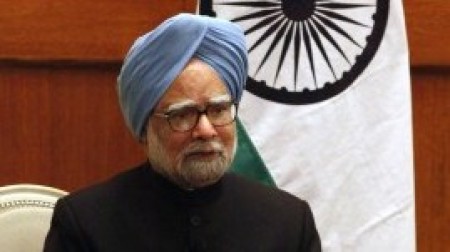 ---
WASHINGTON: Indian Prime Minister Manmohan Singh said on Tuesday he was ready for broad-ranging dialogue with Pakistan so long as the neighboring country cracked down on the perpetrators of the Mumbai attacks.

This came as a dash on hopes after a statement by Gilani in a press conference saying he had felt a change in the Indian position.

India and the United States have urged Pakistan to rein in the Islamist movement Lashkar-e-Taiba, which investigators say orchestrated the rampage of November 26, 2008 that left 166 people dead.

"Pakistan, if they take credible steps to bring the perpetrators of the horrible crime of 26/11 to book, that's the minimum that we expect," Singh told a news conference at the end of a nuclear safety summit in Washington. "If Pakistan does that, we would be very happy to begin talking once again about all issues," Singh said.

Pakistan's civilian government has won praise overseas for stepping up action against homegrown and Afghan Taliban militants. But US and Indian experts say it has hesitated to take action against Lashkar-e-Taiba, believing that the Islamic militants could prove useful in pressuring its historic rival India.

Pakistani Prime Minister Yousuf Raza Gilani, who was also in Washington, said on Monday he would not tolerate extremists but was waiting for India to provide evidence against Lashkar-e-Taiba.

Singh said there was already plenty of proof of Lashkar-e-Taiba's involvement in the attacks, which were documented through Indian police intercepts of telephone conversations to the assailants' handlers. "I always hate to enter an argument with him in a press conference, but I think the American intelligence and... the forces themselves pointed to the role of Lashkar-e-Taiba," Singh said. "I don't see that there is any need for any further evidence," he said.

Singh and Gilani shook hands and exchanged pleasantries during the summit.

Singh said he praised Pakistan for reforms that give the parliament more power vis-a-vis the president. But Singh said the two held no substantive talks. India in February reopened dialogue with Pakistan for the first time since the Mumbai attacks but has remained cautious.

Singh, who resisted domestic calls to take military action over the Mumbai attacks, on Sunday met US President Barack Obama to urge him to use his influence to press Pakistan to rein in Lashkar-e-Taiba. Obama, in keeping with his predecessor George W. Bush, has sought to build the alliance with India, one between the world's two largest democracies. But Obama has also launched a push to ease widespread anti-Americanism in Pakistan by committing 7.5 billion dollars in aid and pledging cooperation beyond the fight against extremism in Afghanistan.

The nuclear summit put a spotlight on both India and Pakistan, which faced opprobrium in 1998 when they declared themselves nuclear weapons states. India has since come into good graces and signed a nuclear cooperation deal with Washington.

Obama stayed cautious about Pakistan's nuclear program during a news conference, saying that Gilani's participation in the summit raised hopes that the country would work against proliferation. "I want to lower tensions throughout South Asia when it comes to nuclear programs," Obama said. "I feel confident about Pakistan's security around its nuclear weapons programs. But that doesn't mean that there isn't improvement to make in all of our nuclear security programs," he said. Singh, asked about Obama's remarks, sidestepped criticism of Pakistan but said the summit itself was "vindication."

"The concerns that we have been expressing for decades on the dangers of proliferation and the risk of nuclear materials finding their way into the wrong hands are today finding widespread acceptance," Singh said.

Both India and Japan announced that they would set up research institutes to help improve nuclear security. The summit set a goal of securing all of the world's loose nuclear material in four years.





COMMENTS (2)
Comments are moderated and generally will be posted if they are on-topic and not abusive.
For more information, please see our Comments FAQ