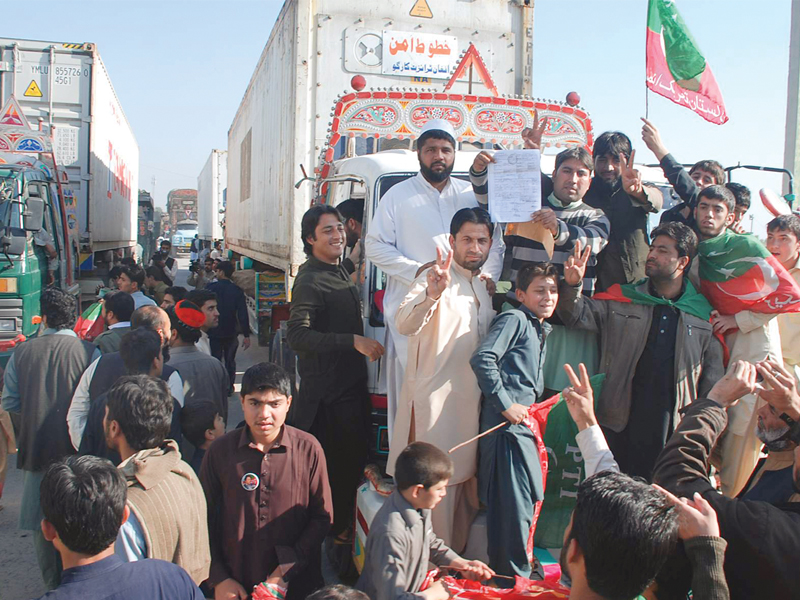 ---
PESHAWAR/ ISLAMABAD: For Pakistan Tehreek-e-Insaf (PTI), the trick to a successful blockade of goods en route to Nato troops in Afghanistan lies in the division of tasks for constituency workers.

The party has adopted a strategy whereby each constituency will hold sit-ins on different days. With a plan in hand, the PTI hopes to not only keep the protest alive but also to help party activists do their routine jobs. Each group of 50 members is divided into three shifts which check containers for eight hours.

According to the schedule, Saturday was constituency PK-5's day to stage a sit-in at the Hayatabad Toll Plaza, where hundreds of PTI workers accompanied by activists of Jamaat-e-Islami (JI) and Awami Jamhoori Ittehad (AJI) were posted to block routes.

"We stopped dozens of containers among which only nine were found to be supplying goods to Nato troops in Afghanistan," said PTI's general secretary Peshawar Younas Zaheer, who was present at the site with 400 workers.

Zaheer conceded that it was difficult to identify Nato containers among others that were carrying goods to Afghanistan as per routine but claimed that the Nato trucks "were sent back to where they had come from".

Besides Hayatabad, PTI workers also staged a sit-in on the Ring Road near Chamkani, where another group led by the PTI regional secretary general Fazal Khan, checked hundreds of container.

Umar is confident that his party's blockade has prompted Nato trucks to halt operations as they fear obstruction. "As per the advice of the chairman, we will not step down unless we are given aguarantee that drone attacks will stop" said Mina Khan Afridi, a PTI activist at the GT Road camp near Chamkani.

In their quest to distinguish Nato trucks from regular cargo carriers, workers broke the seals of dozens of containers for the inspection of goods and had brawls with the drivers in the process.

"They check every truck even though every container is not a Nato supply container," cried truck driver Rizwan Ali, explaining that Nato truck drivers were avoiding Peshawar as they had been prohibited by police and the political administration of Khyber Agency, and also feared attacks from militants.

Another driver said the seal of his container was opened by workers, but that they left his goods alone when they discovered that he was transporting poultry.  "They are breaking seals and actively checking every container," Khanzada said.

The call for a sit-in was earlier made by PTI chief Imran Khan, after his governing party in K-P passed a unanimous resolution against drones and set November 20 as the date of a rally.

D I Khan witnessed similar scenes as PTI leaders blocked the Indus High Way at Band Kurai. Activists from Tank and South Waziristan also joined the protest.

In Nowshera, around 150 PTI activists led by K-P Assembly member Idrees Khan set up a protest camp near Khairabad Bridge where participants chanted anti-US and anti-Nato slogans.

A number of PTI activists in Kohat also staged a sit in at the Jarma Chowk on the Indus Highway to halt Nato supply trucks passing through the area.
Published in The Express Tribune, November 25th, 2013.
COMMENTS (21)
Comments are moderated and generally will be posted if they are on-topic and not abusive.
For more information, please see our Comments FAQ