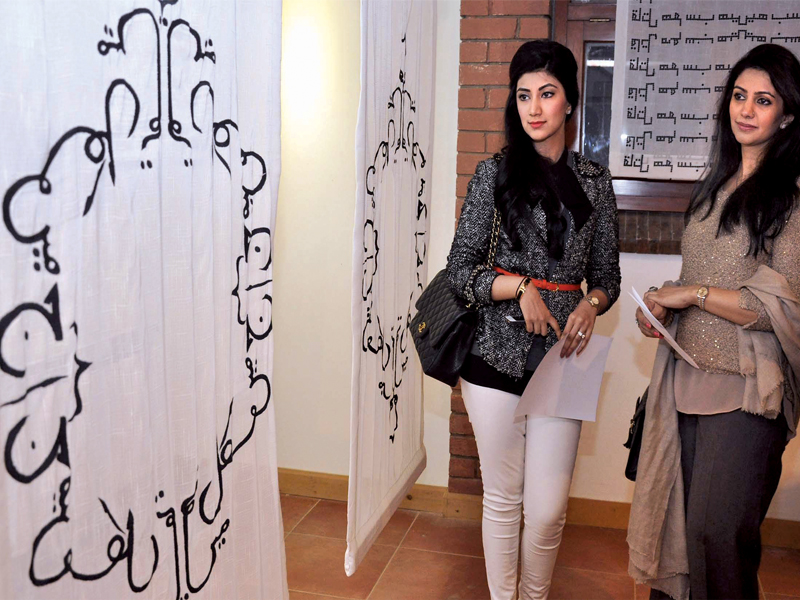 ---
ISLAMABAD: A minimal use of colour, simplistic approach and a touch of genius is what it took Fatima Munir, a Karachi based artist, to portray the inner frustrations of family-raisers in the country's largest city.

A project that took the artist six months to conclude, Amney Samney-Andar Bahar,  displayed at the Rohtas Art Gallery last week, is a reflection of Munir's thoughts regarding the many compromises one has to live with while raising a home and family in what she calls one of the most dangerous cities of the world.




With toy guns wrapped in a black and white cloth to represent a coffin and a backdrop of newspapers, one of the art pieces that had a three-dimensional affect that spoke for itself.

"The newspaper background shows the media's pivotal role in moulding the Pakistani society. We are like children who blindly believe whatever is read to them," The artist explained. Another similar eye-catching piece was a gun draped in a bright coloured cloth on a plain white background.

Putting a light on her work, she said the needlework, a common practice in the subcontinent, was practiced especially because it brought calm to a girl along as well as teaching her patience and a power to focus.



Eventually, it also beautifies their home, she added. "I therefore used this rooted technique from my childhood to find objects that I work on singing the songs of my mind."

Another segment of the exhibition consisted of plain white blinds with writings in Urdu scrolled around the edges. Bold phrases like "Insaan banne kee kohsish kero" were her spontaneous reactions if or when she was confronted with a threat on the roads of Karachi.  "This work is not only about the despair that stares at me from everywhere but also about the grief that we needed to over look in order to survive," she added.




Fariba Thompson, the wife of the British high commissioner to Pakistan, seemed to be quite impressed with Munir's work.

Commenting on the exhibition, she said, "I am amazed by the intellectual, articulate, creative and talented Pakistani women who, through their work, very creatively comments on a situation with such lucidity."

Published in The Express Tribune, November 25th, 2013.
COMMENTS
Comments are moderated and generally will be posted if they are on-topic and not abusive.
For more information, please see our Comments FAQ