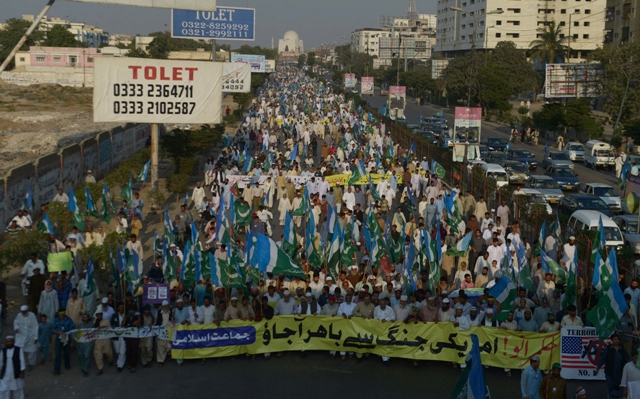 ---
Jamaat-e-Islami (JI) and the Pakistan Tehreek-e-Insaf (PTI) on Sunday afternoon took to the streets of Karachi to protest against drone strikes carried out by US and to block the NATO supplies, Radio Pakistan reported.

JI chief Syed Munawwar Hasan said the drone strikes are against the sovereignty of Pakistan and asserted that the government should reconsider its foreign policy.

Earlier, JI had passed a resolution strongly condemning the drone strike on November 1 which killed former Tehreek-e-Taliban chief Hakimullah Mehsud, according to the official JI Facebook page.

The resolution had demanded that NATO supplies be halted immediately, and the government switch from useless speeches to taking real action.

A drone strike in Hangu which killed six people and injured eight others on November 21 had angered the political parties further.