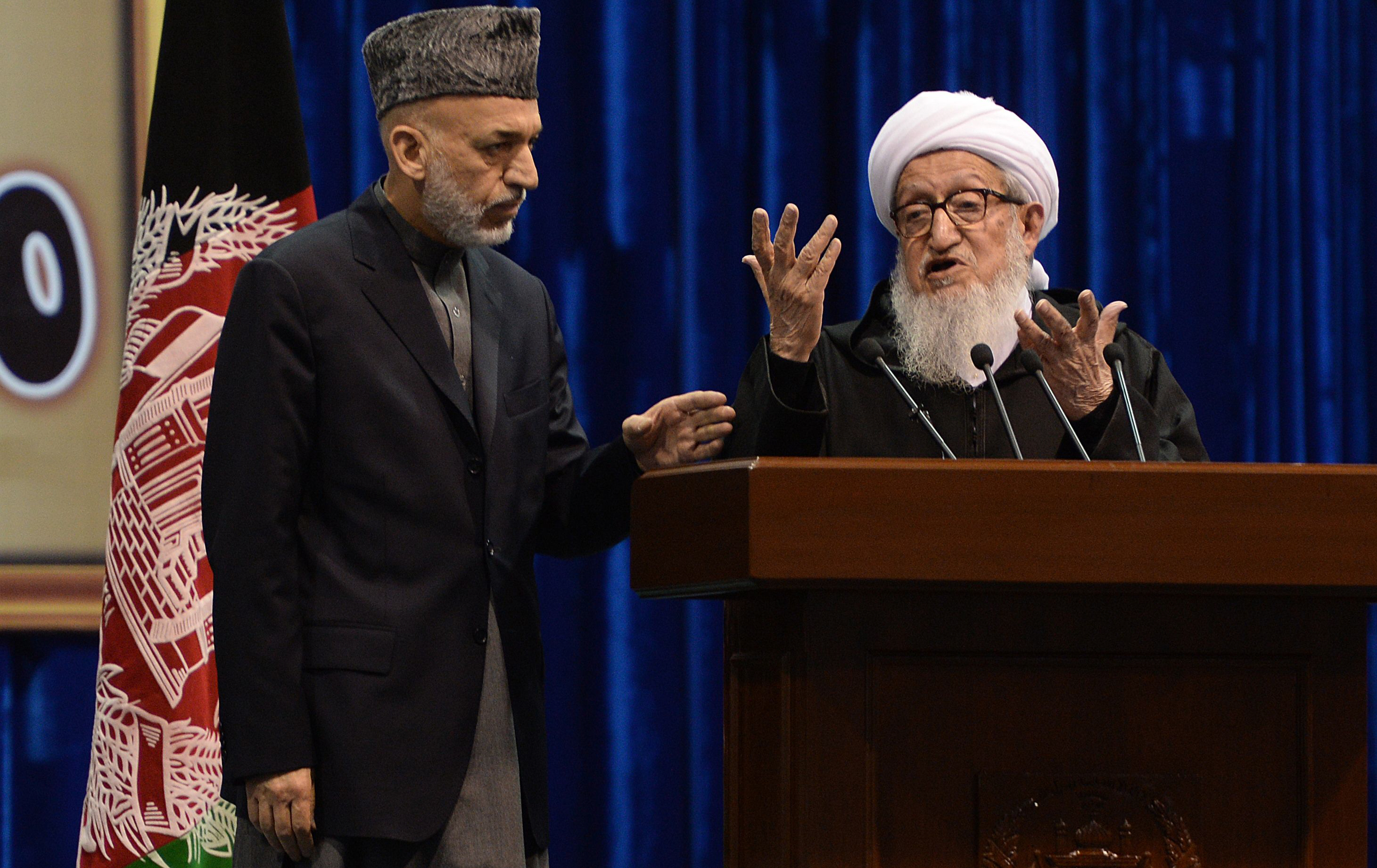 ---
KABUL: An assembly of Afghan elders endorsed a crucial security deal on Sunday to enable US troops to operate in the country beyond next year, but President Hamid Karzai left the matter up in the air by refusing to say whether he would sign it into law.

The gathering, known as the Loya Jirga, had been convened by the president to debate the pact which outlines the legal terms of continued US military presence in Afghanistan. It voted in favour and advised Karzai sign it promptly.

But Karzai, in his final remarks to the four-day meeting, said he would not sign it until after a presidential election due next April.

"If there is no peace, then this agreement will bring misfortune to Afghanistan," he said. "Peace is our precondition. America should bring us peace and then we will sign it."

The president did not elaborate, but has previously said a free and fair vote is needed to guarantee peace in the country and his spokesperson later said Karzai had not changed his mind.

As the meeting ended, assembly chairman Sibghatullah Mojeddedi told Karzai: "If you don't sign it, we will be disappointed." Karzai responded "Fine!" and left the stage.

Failure to clinch the deal could mean a full US pullout, leaving Afghanistan to fight the Taliban insurgency on its own. US troops have been in Afghanistan since leading a drive to remove the Taliban in late 2001.

US officials, including Secretary of State John Kerry and Defense Secretary Chuck Hagel, said the deal must be signed by the year's end to begin preparations for a post-2014 presence.

In his remarks, Karzai acknowledged there was little trust between him and US leaders while saying signing the pact was broadly in Afghanistan's interests. Backing from the Jirga, handpicked by his administration, had been widely expected.

Most speakers were muted in their criticism of the thorniest issues in the document, including a US request for immunity for its troops from Afghan law.

Critics say Karzai's recalcitrance on the date might reflect his desire to distance himself from any deal with the United States and avoid speculation that he has sold out to the West.

A former US ambassador to Afghanistan, Ronald Neumann, said Karzai is known to use 11th hour demands to press for concessions from the United States during negotiations.

"He has to be the one ... to sign off on this loss of Afghan sovereignty. He knows intellectually that this is in Afghanistan's interest, but at the same time it's distasteful to him," Neumann said.

He's done it again

The deal took a year to bash out and Karzai's volte-face threw the entire process into doubt just hours after both sides announced they had agreed on its terms.

Even in Afghanistan, where some view the security agreement with the United States with contempt, many officials were unsettled.

Some believe Karzai is simply concerned that the United States and other Western countries may attempt to interfere in next year's presidential election. Having served two terms, he is ineligible to run again.

By withholding his signature until after the vote, Karzai could also use ratification as leverage to ensure the United States does not try to back a candidate not to his liking.

Opposition leader Abdullah Abdullah, who dropped out of a run-off against Karzai in the 2009 elections, citing concerns about fraud, was among those who shared this suspicion.

"What he is asking for is a guarantee about the elections and most probably his favourite candidate," Abdullah told Reuters.

Karzai accused the international community of meddling during the 2009 election that he won, saying they had tried to encourage Afghans to vote for an opposition candidate.

Others were concerned that Karzai's reluctance to sign the agreement could jeopardise Afghanistan's relations with its international allies and its economic future.

"If we keep talking about signing the agreement after the election, we will lose our biggest ally," said Freshta Amini, an MP from southwestern Nimroz province. But some Loya Jirga members supported Karzai's comment about delaying ratification.

"If the Americans want to sign this pact with Afghanistan, then they should also respect our demands for a transparent election, and peace and security in the country," said Farid Alokozai, provincial council chief in Wardak, outside Kabul.

One cabinet minister close to Karzai said many members of the president's team were unhappy with his decision.

"There are people who want this pact to be signed immediately after the Loya Jirga. But there are spoilers too, who have a lot of influence over the president."

Taliban vow to continue armed resistance

As 2,500 tribal leaders gave their seal of approval to the pact that will see US military presence in Afghanistan continue beyond 2014, the Taliban announced they would continue armed resistance until foreign troops left the country.

"We are unequivocally opposed to any American military presence in Afghanistan and will continue our armed struggle until Afghanistan regains its full sovereignty and all foreign military forces leave our country," the Taliban said minutes after the Jirga approved the BSA.

"This military presence provides a pretext for further instability in the region, continues to hurt the sensitivities of the common people of this region. For the Afghan people, this military presence is absolutely unacceptable," Taliban spokesperson Zabihullah Mujahid said in a statement.

The Taliban spokesperson also rejected concerns expressed by Russia, China and India that if US forces leave Afghanistan, the country will be faced with strife and could become a threat to the stability of the region.

He said the neighboring states must understand the threats that are posed to our region as a result of continued US-NATO military presence in Afghanistan.

Former Taliban ambassador and writer Mullah Abdul Salam Zaeef said on Sunday that "the pact will completely end the possibility of peace process and will increase intensity of fighting as the US presence and continuation of invasion will be source of war."

"The US bases will also be a source of danger for the neighbouring countries although they will be tight lipped over the pact. Some are likely to encourage war but Afghans want peace as they are tired of fighting," he told The Express Tribune in an emailed response.

He said the Consultative Jirga was contrary to the traditional jirgas in Afghanistan as the gathering was the part of the twenty-five year an "American Roadmap Plan" masterminded by their intelligence in 2001 and will be implemented until 2024.