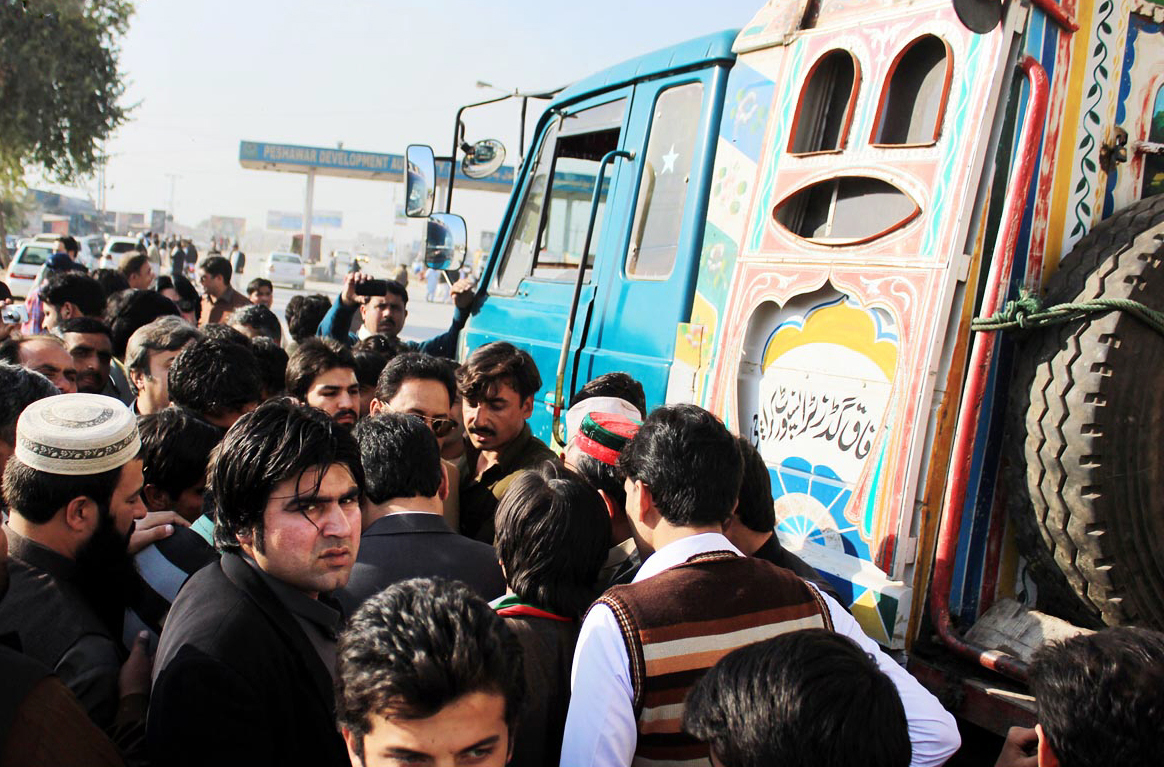 ---
PESHAWAR: Afghan transit trade was hindered on Sunday as protesters demanding that Nato supply routes be blocked, stopped trucks, harassed drivers and demanded to 'search' their cargo as they passed through transit points in in Khyber-Pakhtunkhwa (K-P).

The protests were mostly led by Pakistan Tehreek-e-Insaf (PTI) workers and supporters, who have vowed to block the Nato supply route till drone strikes halt. They reportedly resorted to beating truck drivers and blocked them on their route.


After dharna drama, today AfghanTansitTrade blocked & poor drivers harrassed & beaten..why doesn't PTI Prov. Govt just issue exec.orders?

— Bushra Gohar (@BushraGohar) November 24, 2013


Members of PTI blocked Nato supply lines in Peshawar, Dera Ismail Khan, Attock, Khairabad and Swabi.

According to PTI's provincial spokesperson Muhammad Ishtiaq Urmar, a unanimous decision to block Nato supplies was taken by PTI, Jamaat-i-Islami (JI) and Awami Jamhoori Ittehad (AJI) at the protest rally on Saturday.

DI Khan incident

Hundreds of PTI members held a sit-in in Dera Ismail Khan, blocking Nato supply routes to Afghanistan. A few supporters also stopped trucks, assuming they were carrying 'Nato supplies' and a fight broke out between the truck drivers and PTI supporters.

The truck drivers, however, claimed that they were transporting clothes as a part of the Afghan transit trade.

Background

During the protest rally yesterday, PTI chairman Imran Khan had said that his party will not allow Nato supplies to pass from K-P.

"Before the elections, we promised to bring peace to the country. But without drones being stopped, peace cannot be attained."

After the drone strike that had killed Hakimullah Mehsud on November 1 and sabotaged the fledgling peace initiative with militants, the PTI, JI and AJI had decided to block the Nato supply route from Peshawar to Torkham.

A drone strike in K-P on November 21 had angered Imran even further, who said that it was their "legal right to halt Nato supplies now that a US drone has hit the settled district of Hangu".