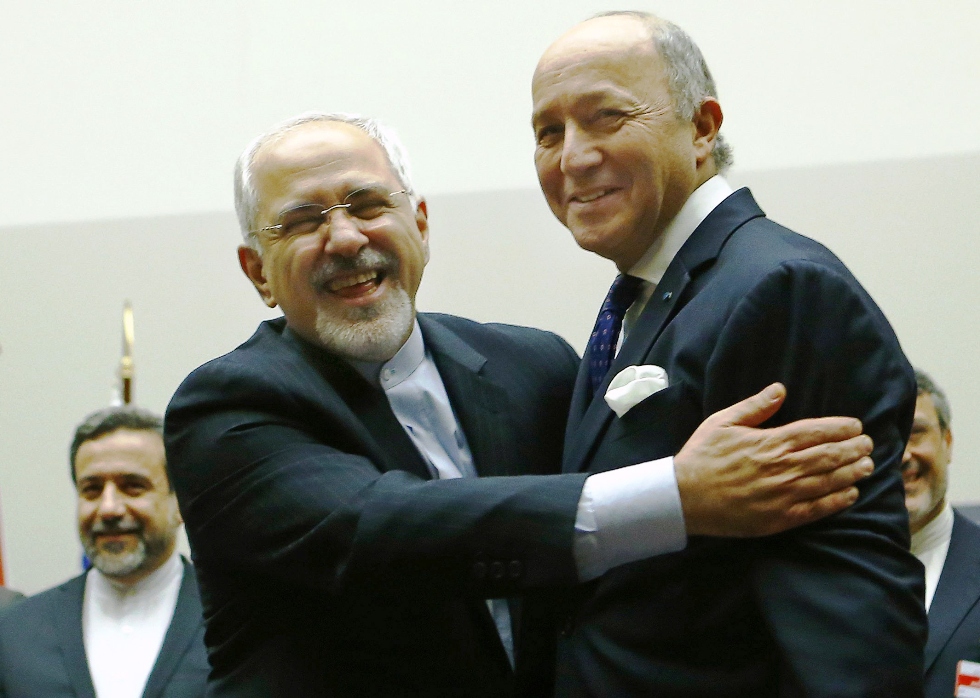 ---
GENEVA: World powers Sunday agreed a landmark deal with Iran halting parts of its nuclear programme in what US President Barack Obama called "an important first step".

According to details of the accord agreed in Geneva provided by the White House, Iran has committed to halt uranium enrichment above purities of five percent.


In the beginning,we welcomed the preliminary agreement regarding the Iranian nuclear issue being a step towards more stability in our region

— HH Sheikh Mohammed (@HHShkMohd) November 24, 2013


In exchange the deal will afford the Islamic republic some $7 billion in sanctions relief and the powers promised to impose no new sanctions for six months if it sticks by the accord.

The announcement came after more than four days of talks in Geneva between Iran and the five permanent members of the UN Security Council members plus Germany.

British Foreign Secretary William Hague called it "good for the whole world, including Middle Eastern countries and the people of Iran themselves".

It was the third meeting in Geneva since Hassan Rouhani became Iranian president in August. The reputed moderate has raised hopes for an end to the decade-old standoff over Iran's nuclear work.

Numerous diplomatic initiatives have failed over the past 10 years to persuade Iran to rein in its programme, which Tehran insists is peaceful but which Western countries suspect is aimed at crafting atomic weapons.

Foreign ministers from the six powers including US Secretary of State John Kerry had jetted into Geneva for the second time in two weeks on Saturday morning after negotiators made good progress.

This "first phase" interim deal is meant to build trust and ease tensions while negotiators push on for a final accord to end once and for all fears that Tehran will acquire an atomic bomb.

It remains to be seen, however, whether the deal, once the details are known, with go down with hardliners in the United States and the Islamic republic, as well as Israel.

Iranians, many of whom see the nuclear programme as source of national pride, are impatient to see a lifting as soon as possible of sanctions that have more than halved Iran's vital oil exports since mid-2012.

Iran's currency, the rial, has been depreciated by more than half since late 2011, while inflation has soared to more than 40 percent, according to questionable official figures.

Many in Israel strongly believe that the only aim of Iran -- an ally of Hezbollah and embattled Syrian President Bashar al-Assad -- is to developed a nuclear arsenal.

Many hardliners in the United States agree, believing that Obama, who in September held an historic phone call with Rouhani, is being too soft on Iran.

As a result Obama will likely find it hard to persuade lawmakers to roll back any of the oil and financial sanctions and trade restrictions imposed by Congress.

Israel, itself widely assumed to  be the Middle East's only nuclear-armed nation, has refused to rule out military action against its arch rival.

Israeli Prime Minister Benjamin Netanyahu has dismissed Rouhani's overtures to the international community as an empty charm offensive.

He has campaigned tirelessly against the mooted deal, believing that it still leaves Iran with the capability to make nuclear weapons.
COMMENTS (38)
Comments are moderated and generally will be posted if they are on-topic and not abusive.
For more information, please see our Comments FAQ