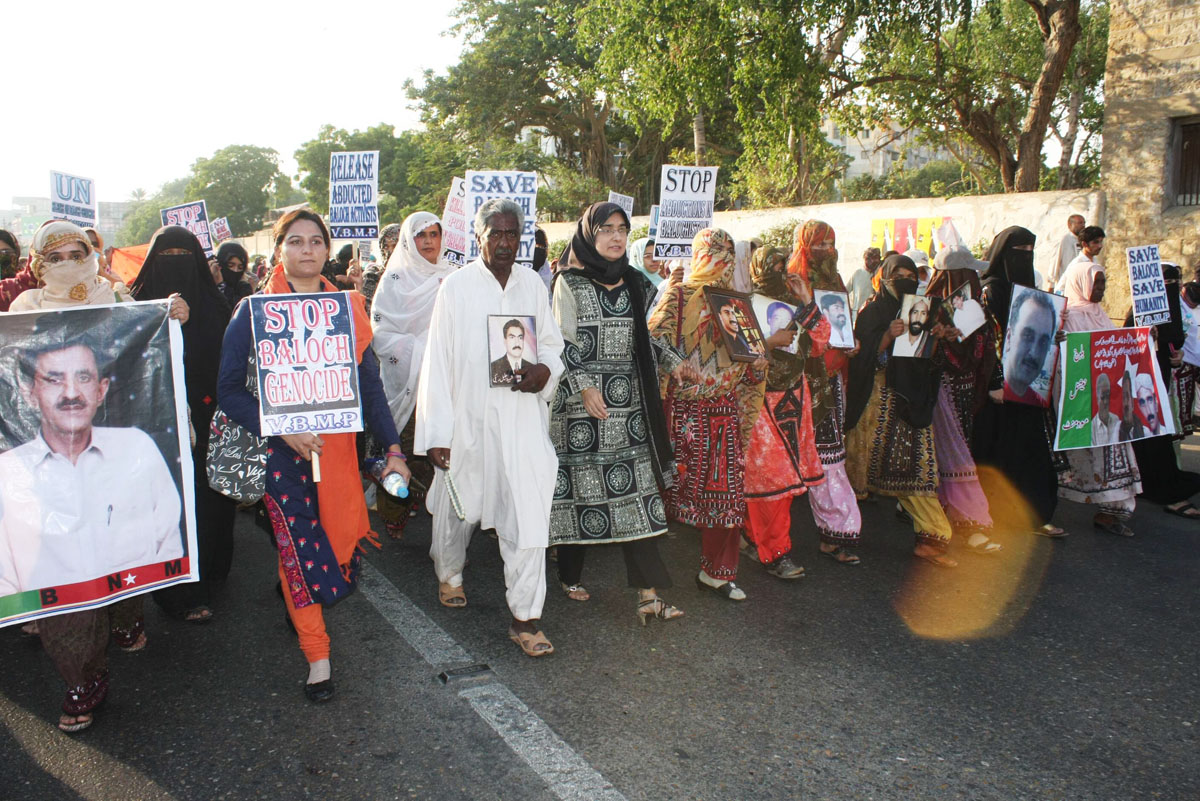 ---
KARACHI: The 26-day march which started from Quetta's press club on October 27 came to an end at the Karachi Press Club (KPC) on Friday. Families and friends of missing persons had travelled 750 kilometres on foot to come to Karachi.

"We were even offered cheques to cancel our long march but I told the shameful people who offered us money that we would not sell the blood of our sons, brothers and fathers," said Mama Qadeer Baloch, the chairperson of the Voice for Baloch Missing Persons, who also led the march. "We will fight for justice at any cost."

Qadeer announced that the march had concluded during the protest organised at the KPC. The protesters were joined by residents of Lyari and activists of Sindhi nationalist parties.  Zainab Ghulam Mohammad, who brought garlands for the Baloch protesters, said, "The awam of Lyari have come to support their cause." One of the protesters, Farzana Majeed, whose brother has gone missing, saluted the men confined in torture cells.  She felt, however, that her family was also living a life of torture. "My mother cannot stop crying in absence of her son."




Inside the press club, journalists presented ajrak and flowers to the Baloch protesters. Mama Qadeer said that though their march was not given much coverage in the media, they did not have any complaints. "Around 27 to 28 journalists have been killed in Balochistan for writing the truth so we understand your apprehensions and limitations."

The elderly man, clad in a white kameez shalwar with mud stains, said that though people started disappearing in Musharraf's time, the number of mutilated and dead bodies found rose in the Pakistan Peoples Party's government. "Even the newly elected government of Nawaz Sharif has not been able to stop it."

The protesters expressed grievance over the statement of Balochistan chief minister Abdul Malik Baloch who said that the march was not a long march but a 'seasonal' one. "When he wanted votes, he said that he would find the missing men. Now he says that he is helpless."

According to him, more than 18,000 people have gone missing, 1,500 mutilated bodies have been found and at least 500 people have been killed in target killings. Even though hearings are going in courts of Islamabad and Lahore, nothing has been done, alleged Qadeer.

He said that very soon he would announce their next plan of action - whether they would go to the capital or the UN. For the time being, they will stay and rest in Karachi.

Sindh's chairperson of the Human Rights Commission of Pakistan, Amarnath Motumal, said that the Baloch people should be given justice and seeking recovery of their missing beloved ones was their right.

Published in The Express Tribune, November 23rd, 2013.
COMMENTS (4)
Comments are moderated and generally will be posted if they are on-topic and not abusive.
For more information, please see our Comments FAQ