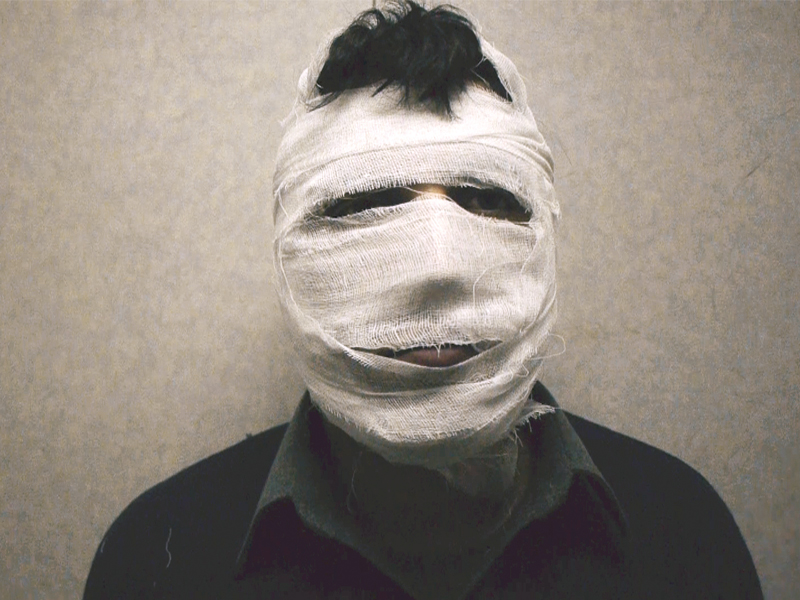 ---
LONDON:



Film-maker Hammad Khan's first film Slackistan was banned in Pakistan and received negative criticism from many, but Khan remains unfazed. His greatest angst regarding cinema in the country is the lack of real film critics, something he said in an interview at London's Curzon Soho, not far from "his day job", at the British Board of Film Censors.




Wearing a leather jacket, with his bag pack flung to one side, Khan manages to be laidback yet passionate as he sips his drink and manages to fleetingly make some opinionated comments about his movie — "it's off the walls" — and about cinema in Pakistan — "it's dead".




Despite several new movies that many think are changing the industry's landscape, Khan is of the opinion that "you cannot have a cinema when people don't know how to see anymore".

He believes Sharmeen Obaid-Chinoy's victory at the Oscars to be a double-edged sword. While it was an incredible achievement, he feels it set a precedent whereby film-makers just want to aim for the Oscars, while the focus should be on establishing our own film festivals.

"I haven't seen Zinda Bhaag or Waar, but I've seen Josh and am aware of what is happening. To be honest, I consider myself an outsider, I don't see what I'm trying to do with film as being in the same paradigm as what's happening in Pakistan," he elaborates. "Everyone is suddenly trying to make a movie that makes us feel good about ourselves. I don't want to do that, I want to make us feel bad about ourselves. I want it to be painful."

His second feature film, titled Anima State and premiering at the 10th South Asian International Film Festival in New York in the first week of December, was as a result of his dreams, his anger at what is happening in Pakistan and advice from his wife, who is a psychiatrist.

"Two and a half years after Slackistan, I was confused," says Khan. "I didn't know what to do next, I couldn't move forward and I had a lot of issues with was happening in Pakistan, what my place in it was, whether I should even make a film."

After his wife suggested he make a movie about all of his feelings, "it was like a light went off in my head  — it was a eureka moment, and within five days this massive script happened. It just came alive." He adds he was greatly influenced by the Pakistani media. "Entertainment, news and information is all just one big mess right now and violence is a part of that. Anima State happened in my head around the time they banned YouTube in Pakistan. It is about a whole range of things, but it is also about my personal issues and hence very much about me."

The short teaser is intriguing but doesn't give anything away. Khan, on the other hand, is willing to tell all. The film is about a masked gunman — played by an actor who Khan says mentally and psychologically lives in a different realm, "and that is where Anima State is set" — who goes around killing people and nobody stops him. Incidentally, these people are the cast of Slackistan. This was Khan's way of showing that he was starting from a clean canvas.




After the killings, the protagonist wonders why nobody is stopping him and tries to get arrested. When that fails, he asks a TV show anchor to feature him on his show, and the anchor agrees only after the gunman offers to kill himself on live TV.

As the anchor asks him his religious and ethnic background on the show, the gunmen snaps out of what was perhaps a dream, and is relieved to find he doesn't have a gun but a film camera instead.  However, when he goes into town, people start questioning him. They want to know who he is and why he has a camera.

"So it's fine if he has a gun, but not when he has a camera. That is the message," says Khan.

What does the name of the film mean?

Initially, when I was conceiving the film, it was called "This is not a sermon [this must be a dream]" which in Urdu is: "Yai khutba nahi [khwaab hoga]". But when we were shooting, I had a feeling I would come up with something more abstract. Anima is the opposite of persona. That's an easy way of putting it. The persona is the part of your mind which is external, a part of the mind that looks inward into the soul.

Do you think it will pass the censor board in Pakistan?

I want it to be seen in Pakistan. Pakistanis will respond to it in a way no one else can, but the censor board objected to Slackistan and there wasn't much in it. Anima State has provocative messages, ideas and images, so I am not too confident.

If they don't show it in the cinemas, I might just project it on government building walls!

Lessons from Slackistan?

Any first film is going be like being in film school — learning how to tell a  story, dealing with non-actors, doing everything yourself, it was a real learning experience. We took it beyond anything that I had imagined, to festivals around the world and selling it to Sundance.

But what I wanted to say evaporated into talk of it being a 'burger movie' by these kids. It wasn't even by them. For me, it was a moment of curiosity about that class of kids. That was it.

Should a film always have a message?

It's about having a thing of beauty. The beauty is lost in Pakistan. I relate what I'm trying to do now less to Pakistani films and more with someone like Sadequain, whose work was tortured, or Munto, who was in a way a 'feel bad' writer.

As for entertainment — we're covered. In Pakistan, even misery is entertainment.  For me, it's about sensation and finding a higher truth.

How do you get funded?

For Slackistan, I had to beg, borrow and steal. Anima State was made from the profits of Slackistan but I am not planning to spend another penny. Hopefully, the next one will be traditionally funded.

"So what are you going to do with all this?" Khan asked, gesturing towards my notes. I told him we'd see. His closing request? "Get me into trouble".

Published in The Express Tribune, November 18th, 2013.

Like Life & Style on Facebook, follow @ETLifeandStyle on Twitter for the latest in fashion, gossip and entertainment.