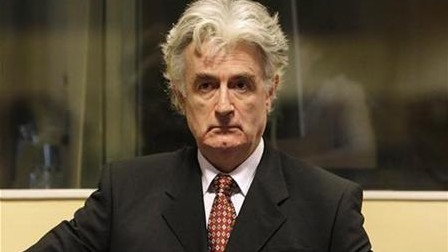 ---
THE HAGUE: The first prosecution witness at the war crimes trial of Bosnian Serb leader Radovan Karadzic described to a U.N. court on Tuesday how he saw Bosnian Serb forces burn homes and slit prisoners' throats.

Karadzic is on trial at the International Criminal Tribunal of the former Yugoslavia on 11 charges of genocide, crimes against humanity and violating the laws and customs of war stemming from the 1992-95 Bosnian war. He denies them all.

When proceedings resumed after a six-week delay, prosecutors at the tribunal called their first witness to testify over mass killings and detentions in Bosnia.

Ahmet Zulic, who had previously given evidence at the court, confirmed an earlier statement that he saw Bosnian Serb forces attack villages in northern Bosnia with shelling, setting houses on fire as prisoners were shot and had their throats cut.

"Mr Zulic's bed-ridden father-in-law was burnt to death," prosecutor Ann Sutherland said, highlighting attacks on two other villages where 300 people were killed. "On 18 June 1992, Serb police arrested the witness at his house."

Prosecutors say Karadzic led a genocidal campaign to make Bosnian Muslims "disappear from the face of the earth" and carve out a mono-ethnic state for Bosnian Serbs during a war that killed an estimated 100,000 people.

But in his opening statement to the court on March 1, Karadzic denied involvement in the four-year siege of Sarajevo by Serb forces, where 10,000 died, and the killing of more than 7,000 Bosnian Muslim men and boys at Srebrenica in 1995.

He boycotted the start of his trial last year and has repeatedly tried to delay it to better prepare his defence.

Judge Presiding Judge O-Gon Kwon warned Karadzic on Tuesday the court will not tolerate delays and could limit the length of witness cross-examination.

Karadzic's plan to spend 14 hours on one cross-examination was neither responsible nor realistic, he said.
COMMENTS
Comments are moderated and generally will be posted if they are on-topic and not abusive.
For more information, please see our Comments FAQ