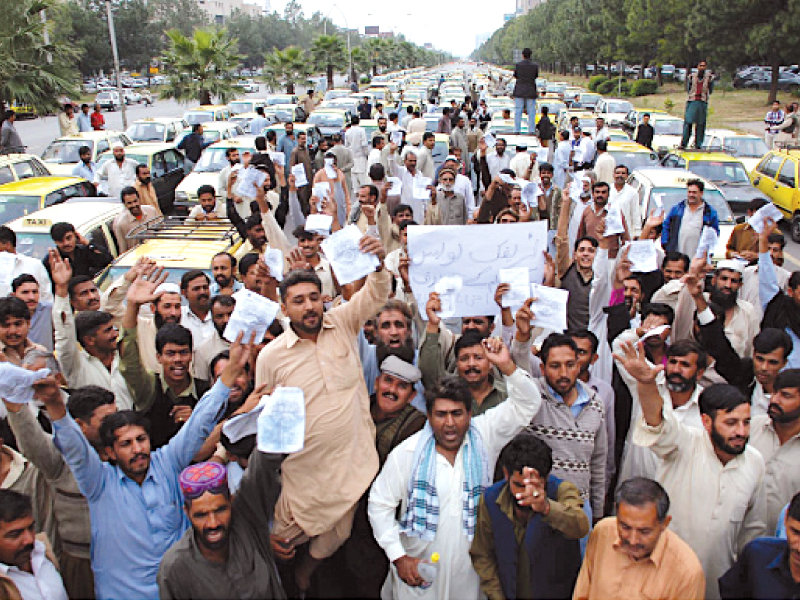 ---
ISLAMABAD:



The Islamabad Capital Territory (ICT) administration assured taxi drivers their demand to allow taxis with Rawalpindi permits to drive in the capital would be met in "three to four days." The administration's claim came after hundreds of taxi drivers from the twin cities staged a protest at Jinnah Avenue on Wednesday afternoon.




Over 500 taxi drivers parked their vehicles near D-Chowk around 1:30pm to block one side of the road and protested against a recent crackdown by the Islamabad Traffic Police (ITP) on taxis that do not possess route permits issued by the Islamabad Transport Authority (ITA).

The ITP crackdown, which has led to heavy fines for taxi drivers, is backed by ITA regulations that have been in place for years but were never strictly implemented before. Most taxi drivers who operate in Islamabad possess permits issued by the Rawalpindi Transport Authority, which are easier to get and allow taxi drivers to operate in Rawalpindi division, which effectively surrounds Islamabad. ITA issues separate permits for the federal capital, but only to commercial vehicles less than 10 years old.




At the protest, City Assistant Commissioner Muhammad Ali told the taxi drivers that ICT officials held negotiations with representatives of their union. Ali said the demands of the union have been forwarded to the ITA and will be approved in three to four days.

"Rawalpindi permits will be endorsed for the time being so that taxi drivers can work in Islamabad," Ali said.




But the bigger issue --- that of allowing commercial vehicles older than 10 years to be allowed an Islamabad route permit --- remains unresolved. The ITP and ITA are not in favour of allowing old cabs to drive in Islamabad because they believe it is harmful for the city's environment and unbecoming of its federal capital-status.

Drivers, on the other hand, claimed only old cars are used as taxis and the authorities should not expect working class drivers to buy new cars to meet the ITA requirement.




Most of the cabs that ferry passengers in the twin cities were manufactured well before the year 2000, said Umar Khitab, an Islamabad taxi driver who attended the protest. "No one is going to buy an expensive new car and convert it into a taxi," Khitab said.

"Taxi drivers are already paying multiple taxes in the form of token and fitness fees every six months," said Muhammad Asif, another driver. "It's not possible for a driver to pay Rs1,000 in fines every other day when they also have to give back money to cab owners."

Public Service Taxi Drivers Union President Malik Aftab said if the administration does not listen to the demands of the taxi drivers, there will be consequences. "There are 50,000 taxi drivers and if our demands are not met, we will go on a strike," Aftab said.

He also demanded that the Capital Development Authority be stopped from selling taxi stands around Islamabad, taxi drivers be allowed to park at places where private vehicles are allowed parking and taxis be provided CNG even during gas holidays.

Aftab assured the taxi drivers that they would not be fined anymore for not possessing Islamabad route permits, but he had a hard time convincing them to disperse as most drivers wanted their fines cancelled and their Rawalpindi permits endorsed on the spot. The crowd eventually dispersed around 5pm.

Published in The Express Tribune, November 7th, 2013.