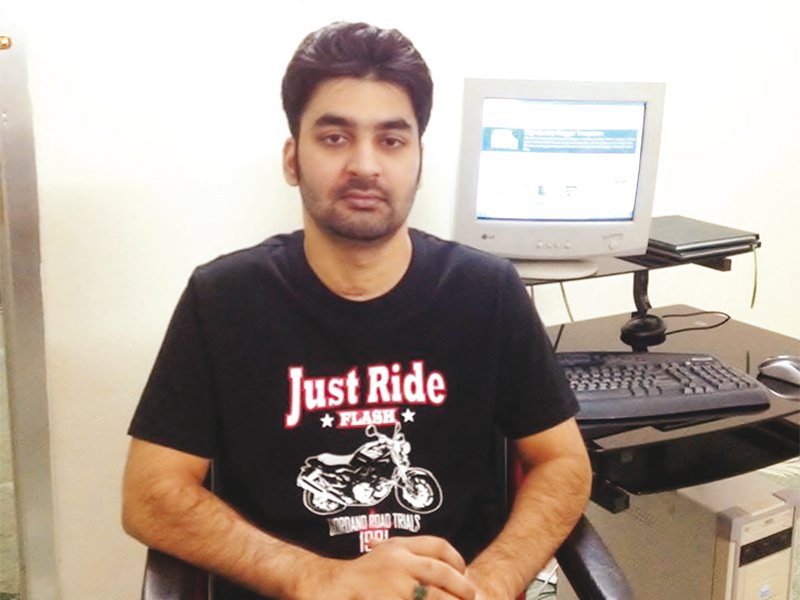 ---
There was a time in 25-year-old Naveed Iqbal's life when he spent twelve hours a day, lying on his side, staring at walls. But, Iqbal is now a self-reliant man, who turned his situation around, using nothing but a PC and his resolute will power. From almost no motor movement that left him unemployed; he not only managed to self-educate but now also earns a living by publishing themes and templates for blogging websites which are downloaded by thousands online.

On July 17, 2008, Iqbal's life fell apart as his friend, and driver of the car, lost control of their vehicle on a busy highway in Jeddah. The car reportedly flipped nearly six times before landing. While the driver suffered minor injuries, Iqbal was hospitalised in a critical condition. After a month on the ventilator, Iqbal returned to consciousness only to learn he was diagnosed with Quadriplegia, a form of paralysis from the neck-down.




PHOTO: NAVEED IQBAL

"I couldn't speak for the first few months after the accident. When I first heard in the ICU that I was paralyzed, I kept crying. Even for months after, I was in denial," says Iqbal. "The mere mention of the word paralysis would leave me depressed."

Dealing with the changes in his body and motor function was not easy, as Iqbal lost sensation in his feet, legs, and torso up till his shoulders. His fingers lost all movement, except for the little finger on his left hand and thumb on his right hand, which can be maneuvered slightly.

Naveed's mother, Mrs Iqbal recalls the first few days at home with her son post discharge, "My daughters and I would carry Naveed on a bed sheet to move him from his bed to the wheelchair. To be honest, I had lost the ability to speak to him. I could not face my son."

Along the way, painful remarks from close friends pulled Iqbal down further. "People, who could clearly see my state, would ask damaging questions such as 'can you stand?' or 'will you ever be able to work?'"

"Till I didn't accept I was paralysed, life was very tough. Each word would have an impact on me and I could not believe the insensitivity showed by those who pretended to care," Iqbal says.

Five years on, the situation for the family changed as Iqbal came to terms with his new reality. He found his strength and a new life on the PC in his room. Now earning through his blog templates and other websites, Iqbal says, "Initially I didn't think I could use a computer. I would move the mouse a little and I was out of breath."

Iqbal persisted and tried to work his way around his limitations, self-educating himself on how to code using Google. "I spent time making changes on CSS, learned script and played around with footers and headers on my blogs to keep myself entertained."




With time Iqbal built up his stamina and started using two fingers to type. Unable to use a laptop as the touch-censor complicates the process, Iqbal has an undying devotion towards his PC. "The PC has helped me so much, I don't think I have shut it down in over two years."

Iqbal specialises in constructing theme templates for a blogging website known as Blogger. What started out as a hobby suggested by a friend, became a lifeline. "After a while I felt that I was confident enough to try making a blog template. I spent nearly six months working on my first template. After I had made my own coding, it was simple because I just had to make changes to the existing code," he recalls.

Even though he is not making a huge sum of money, the gratification of being independent is compensation enough for Iqbal. "In under a year I have published 17 templates, out of which one is premium and allows for video."

Although his dark days are behind him, Iqbal is now more aware of the way society looks at people with disabilities. "When I visited Pakistan, I went to 20 different mosques but none of them had wheelchair access." The situation is somewhat similar in Saudi Arabia too, where Iqbal currently lives. "Malls don't have wheelchair ramps and offices don't either. Bigger companies do not even respond to my job applications; maybe it'll affect their reputation if they hire a person like me."




Reinvigorated by his success, Iqbal advises others to be kind to those who are still struggling. "Try to give such patients new hope. Don't ask them what the doctors are saying, because you will finish your negative talk and walk away, but your words affect such people. Try to motivate them, instead of pulling them down."

Published in The Express Tribune, Sunday Magazine, November 10th, 2013.