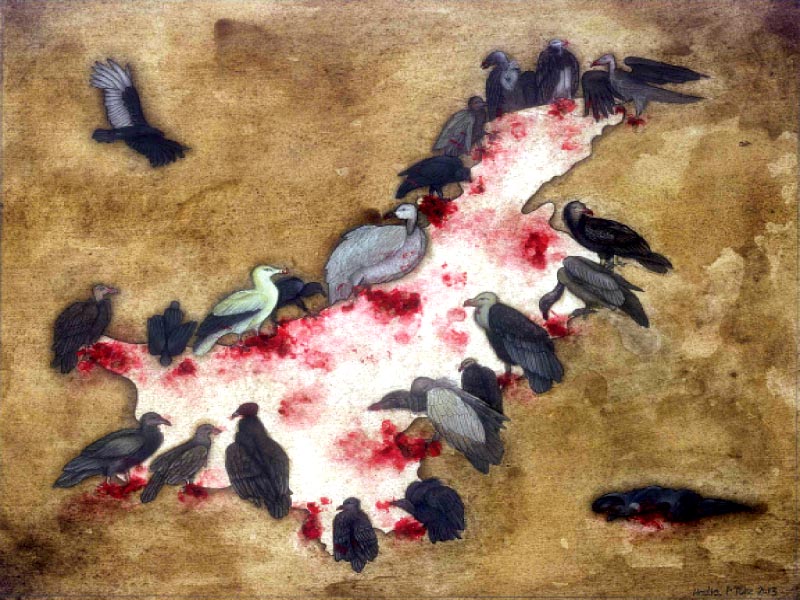 ---
ISLAMABAD:



Whatever your political leaning, miniature artist Hadia Moiz's work will have you pause and reflect and perhaps even laugh with self-deprecating ambivalence. Irreverent and satirical, her latest exhibition "Lotta Republic" opened at Khaas Art Gallery on Tuesday.




The tongue-in-cheek paintings mock the incompetence of Pakistan's political system, which the artist said has affected social and moral values of many like her. "We are surrounded by self-centered, power-hungry fiends who will go to any extent to self-indulge while depriving the common man of basic necessities," she said.




"I have tried to encapsulate the feeling of knowing what is right and yet going ahead and doing what is wrong. We proceed to go on living with pride in this illogical, liberal society that continues to live in fear of losing that glass house many of us reside in," she added.

An amalgamation of traditional Mughal art and animated objects of the artist's imagination, the paintings speak for themselves. Although primarily painted in opaque water colours, the pieces also employ other media like currency coins, making the work multidimensional.

For instance, "The Thinkers" shows Allama Iqbal in his famous meditative pose, next to the national flag juxtaposed with former president Asif Ali Zardari in the same pose. In three simplistic frames, the artist has depicted the inception and the deterioration of the country.


The artist has created a series of visually appealing paintings to make political commentary more palatable. PHOTO: EXPRESS

"Khota Badshah" shows a donkey donning a crown with a string of pearls around his neck. Within an inception of frames, there is the Pakistani flag within that of America. The donkey is shown to be a mindless Pakistani, following its master's orders. "We are not doing anything by thinking ourselves, some other power is tethering us. Like donkeys, we don't have a mind of our own. That's the political hierarchy for you," the artist said.

In "Urao Urao," vultures line the edges of Pakistan's map, with blood splattered here and there. The blood-sucking vultures are depicted as plundering politicians who are robbing the country of its riches, according to the artist. "While the inflation is constantly increasing, the politicians have everything," she added. There are references to the poor economy in "Budget 2013" as well while "The Feast" reflects a nation at war with itself.




"Whomsoever Makes Him Happy" is a court of jesters in pursuit of pleasing a king. Reverberating with powerful messages, the theme hits a raw nerve with each piece on the diversified canvas. "This exhibition is very close to my heart since I've spent so much time grasping the harsh realities over the past two years. But from now on, I'll try not to focus on politics because it makes me angry," she said.

Alia Bilgrami, the curator of the gallery, commented on the displayed work, "The artist has really progressed in terms of skill and concept execution. While the content is serious, the imagery is quite funny, so it balances things out," she said.

"I've always admired miniature and these paintings have lots of fine detailing. She's done a great job," said Rafiya, a guest at the exhibition. The artist has won praise for her work both locally and internationally. The exhibition will continue till November 16.

Published in The Express Tribune, October 30th, 2013.
COMMENTS (1)
Comments are moderated and generally will be posted if they are on-topic and not abusive.
For more information, please see our Comments FAQ