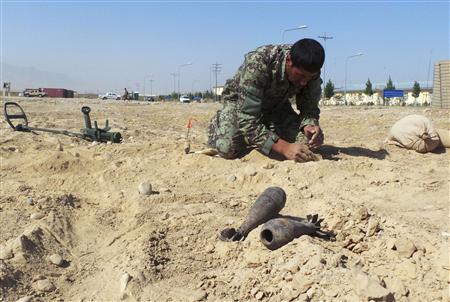 ---
MAZAR-I-SHARIF: The Afghan soldiers studying the art of controlled detonations of explosive devices would have to wait until another day for a practical demonstration due to an unspecified security threat.

Nato trainers were ordered to observe a 72-hour lockdown and suspend classes at what was, until this month, the only school in Afghanistan dedicated to countering the most deadly weapon in the Taliban's locker - the improvised explosive device (IED).

With most of the Western alliance's personnel due to withdraw by the end of next year, the temporary closure foreshadows a much more permanent loss of know-how for Afghan security forces who will be left to fight the Taliban alone.

Though the school, located on a barren plain about 20 minutes drive from Mazar-i-Sharif, the provincial capital of northern Balkh province, is being handed over to full Afghan control, only a few Afghans have made the grade to become trainers. Fewer still inspire confidence among the grizzled ranks who come for training, or their western supervisors.

"No one wants to be honest about it, because they don't want to lose their job," said a western special forces veteran now serving as a trainer.

Having defused thousands of pounds of explosives and served in Iraq, he rated only a handful of Afghan colleagues as competent enough for the job.

As they withdraw from Afghanistan, the United States and its allies would like to portray their mission as a success to justify the trillion or more dollars spent on war since 2001.

Instructor Chris Snaith says he has resisted pressure to increase the pass rate, to ensure that only men with the skills to survive are awarded qualifications.

"At least I can look at myself in the mirror every morning," Snaith, the chief contractor said, while another trainer conducted a de-mining exercise in a dusty plot nearby.

Watched by trainees, a man appeared to teeter, with the weight of his heavy bomb suit, as he swept over the soil with a mine detector.

Elsewhere in the grounds, trainees crouched at a safe distance, tugging carefully on pull lines attached to what looked like a large anti-tank mine. The aim was to haul it across a mound that would flip it over in order to detonate any booby-trap.

Improvised explosive devices (IEDs) are the single biggest killer in the Afghan conflict, according to a UN report that recorded a 53 percent increase in victims - mostly children-last year. IEDs caused over a third of civilian casualties in the first six months of 2013, during which over 1,300 were killed and 2,500 wounded - 23 percent more than the same period last year.

Police suffer even higher casualty rates, with nearly 1,800  killed in the six months through September, equalling the number that were killed in the preceding 12 months.

This month, a bomb squad training centre was opened in Kabul for Afghan police, allowing the facility in Balkh to be dedicated to the army.

To safeguard morale, authorities have not disclosed this year's toll for the Afghan army, though it was described by Nato commander General Joseph Dunford as "unsustainable", while US General  Mark Milley likened it to the Vietnam war.

 'Who's watching their back?'

Since the training facility first opened five years ago, about 600 trainees have attained a basic qualification for disposing of explosive ordnance, while a further 420 achieved the more advanced qualification for neutralising IEDs.

Two Western contractors told Reuters they feared a lot of the expertise was lost, as most trainees were not assigned to specialist roles clearing IEDs.

Instead, they either returned to different units or simply deserted - a common problem in the 350,000 strong national security force, which includes both the army and police.

Those undergoing training spoke with trepidation over what awaited them once they returned to their units, while also expressing a sense of duty to protect lives.

One complained that the equipment he was being taught to use was unavailable in the field, while another feared officers would order him to check for IEDs without properly assessing the risk of him being an easy target.

"My superiors will order me to go into dangerous areas because they don't understand," said a twenty something trainee, furrowing his brow.

Colonel Ahmadullah, the Afghan commander of the training facility, sympathised with both views.

"Even if they are assigned (the correct role), the problem is that they don't get cover from attacks while they are doing their job," Ahmadullah said, before lamenting a lack of resources. "We don't have equipment in our depots, but we are under pressure to get more students through the course. So what are we supposed to do?"

An Afghan translator at the training centre, was more blunt in his assessment of the fate awaiting its graduates.

"When they go back to their station they will die," he said. Reticent about giving his full name, he doubted whether the training centre would last long after Nato pulled out.

Conscious of the shortfall in Afghan expertise, Major-General Dean Milner, the deputy commander for Nato training in Afghanistan, says the number of trainees will be ramped up.

"We will surge to get the right numbers for them over the coming months," Milner told Reuters in Kabul.

He expected a computerised system would be operating from the start of next year to help Afghan commanders track where graduates of the training programme were being deployed, and dismissed doubts over the availability of equipment.

"They will get the best equipment in the world. I have seen it," he said. "Most of it is sitting ready to be deployed."
COMMENTS
Comments are moderated and generally will be posted if they are on-topic and not abusive.
For more information, please see our Comments FAQ