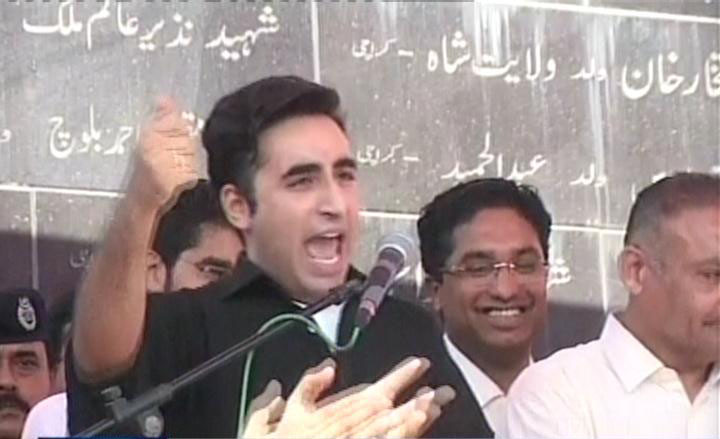 ---
KARACHI: In a war of words that spilled over from the online world, Pakistan Peoples Party's (PPP) patron-in-chief Bilawal Bhutto Zardari declared his party was not like the "cowardly" Pakistan Tehreek-e-Insaf (PTI) Chairman Imran Khan.

Bilawal was speaking in Karachi on the anniversary of the 2007 attack on Benazir Bhutto's caravan on Karsaz road that had killed at least 180 people.

The young Bhutto told a charged crowd of supporters that Imran Khan "stood outside the church and made excuses for the terrorists who were responsible for the attack," after the Peshawar church bombing that killed at least 78 people and injured over 100 others on September 21.

"PPP will save the people of Khyber-Pakhtunkhwa from drowning in the tsunami," Bilawal claimed.

The patron-in-chief also said that PPP is a party of "courageous and martyred" leaders, and is not afraid of terrorists.

Commenting on the May 2013 general elections, he said the PPP had given a lot of sacrifices to win the 2007 elections, but in the recent elections the party gave up its seats to protect its members.

"In the 2018 elections, Asif Ali Zardari will be Jiyalas' bow and I will be the arrow," he further stated.

Bilawal also said the PPP "saved Islamabad" from Mohammad Sikander, the man who was responsible for the standoff that had been created on Constitution Avenue for almost six hours on August 15. The stand-off had ended when PPP leader Zamrud Khan had approached the gunman and tried to grab him after which the police shot and arrested Sikander.

Bilawal assured the general public that he would fight for them and give his life for them. He also added that if someone had sacrificed his brother or son to acts of terrorism then from today onward, he would be their brother or son.

In a veiled reference to the MQM's hold over Karachi, Bilawal said that "although Pakistan got its independence in 1947, Karachi is still a colony of London."

He also declared "jihad" against religious extremists and further added that "Sindh will once again be PPP's stronghold."

Reaction

Responding to Bilawal's comments, MQM leader Wasay Jalil said people thinking of defeating MQM are fooling themselves. He said such attempts to harm MQM were not successful in 1988 nor will they be this time.

PTI leader Naz Baloch said Bilawal lacks political knowledge.
COMMENTS (98)
Comments are moderated and generally will be posted if they are on-topic and not abusive.
For more information, please see our Comments FAQ