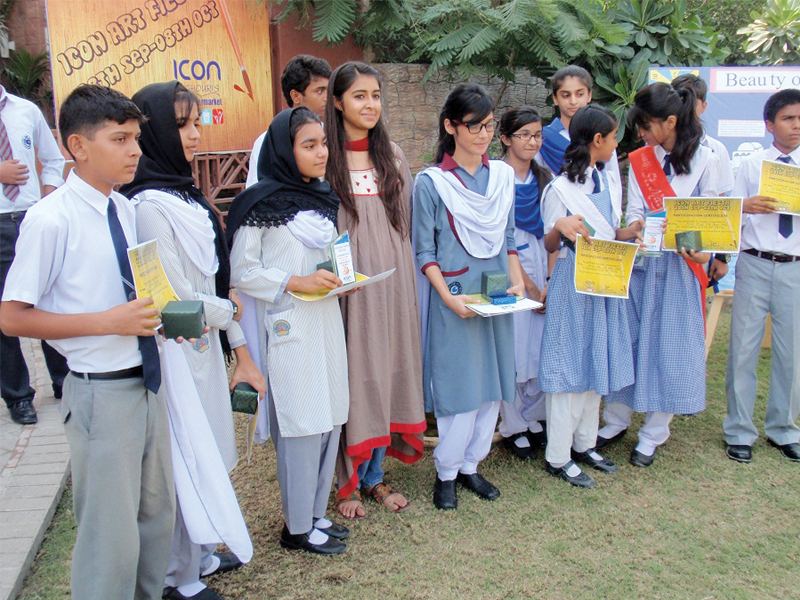 ---
SUKKUR: After the success of the beautiful flower exhibition in February earlier this year, the departmental store, Ghouri's Icon, hosted an art exhibition, aimed to polish the talents of students in paintings and artwork.

This 'Art Fiesta', which commenced on September 28, concluded on Wednesday with a graceful ceremony outside the store. Students from six schools, the Army Public School, Public School, APWA High School, Saint Mary's High School, The City School and Beaconhouse High School, participated in the competition.

The students were asked to produce artwork based on specified themes, including Pakistan Zindabad, water: the source of life, wasting food is wasting planet, impact of internet on youngsters, beauty of Sukkur and parents' love. Since the start of the exhibition, boxes were placed next to the paintings and people were asked to vote for their favourite works by casting their votes in the boxes.

The store's owner, Amir Ghouri, told The Express Tribune that the idea behind the competition was to spark life into what were otherwise the dull routine lives of the students. He expressed his gratitude to the schools and students for their eager response to the competition. Students were encouraged to express their views through paintings and artwork which in itself is a healthy exercise, he added.

Sukkur assistant commissioner Dr Waheed Asghar was the chief guest at the occasion, which was also attended by renowned poet and writer Ayaz Gul, Dr Iqbal Daudpoto of SIUT Sukkur, Beaconhouse School principal Atiya Batool, Saint Mary's High School principal Sister Rosey and a large number of students. The first prize was bagged by Zunaira Malik of the APWA School for her painting, titled 'Parents' love'. Malik, expressing her jubilance at having been awarded the prize, hoped that such events would be arranged regularly so that students had a medium to share their views and opinions. Dedicating her feat to her parents and teachers, she advised her fellow students to take out time for healthy recreational activities besides studies too.

Sindhi poet and writer Ayaz Gul said that Sukkur was lacking cultural events, adding that such efforts were needed to pull society out of intolerance, stress and tensions of the prevailing situation. "I hope more people will engage in such healthy activities, which will have a positive impact on society and especially on our younger generation."

Sister Rosey, in her comments, said that it was not a matter of winning or losing - rather, it was the participation that counted. "Because of our wrong doings today, we are living amid panic and harassment. Such beautiful events can help overcome our problems."

Batool remarked that all the participating students had done a very good job and that such events increased their confidence.

Published in The Express Tribune, October 10th, 2013.