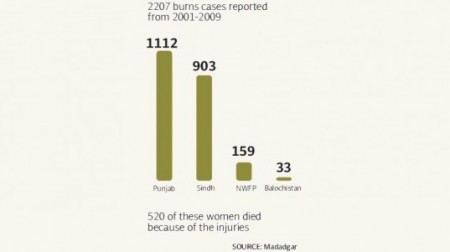 ---
KARACHI: Yasmeen's life changed forever the day her husband threw acid on her, accusing her of adultery.

The scars on her face may haunt her for life and she insists that "she will never forgive him". Yasmeen's story and of other burn victims like her, were discussed at a seminar by a local NGO for women and children Madadgar, on Monday.

According to statistics gained by the organisation, as many as 2207 burn cases were reported from the year 2001 to 2009. The NGO also reported that out of the 2207 reported cases of burnt victims,1,255 were married and 952 were unmarried, showing that married victims are more vulnerable to domestic violence including acid attacks.

During the above mentioned period, Punjab stood on the top of the list with 1112 burn cases, followed by Sindh with 903 cases. The burn cases reported from the NWFP and Balochistan were 159 and 33, respectively. However, this does not mean that the situation of violence against women is better in these provinces but that fewer cases were reported in those areas due to a stronger tribal and feudal system, and weaker media.

Unfortunately, however, the real number of burn victims is much higher than that reported. The reported cases make a small proportion of the actual number because cases of domestic violence are often strictly hushed up by families and communities.

At the seminar, Bushra Syed, the Field Officer of Madadgar said: "Ninety per cent of women die before recording a statement in Pakistan." Most of the women change their statements at least four times in each case due to pressure exerted on them by their families and society, she added. "The unavailability of police at the time a case is reported at the hospital, results in changed statements," she said. "Women and girls fleeing an arranged marriage or a relationship where they are unhappy or are being abused are seen as dishonouring their families. These people are the worst victims of such attacks," said Zia Ahmed Awan, Advocate Supreme Court of Pakistan.

Awan stressed on the need for stricter laws and well-equipped medial aid centres. "The government, media, parliamentarians and members of the civil society should join hands to raise awareness against violence on women, especially for victims of burn and acid attacks" he added.
COMMENTS (1)
Comments are moderated and generally will be posted if they are on-topic and not abusive.
For more information, please see our Comments FAQ