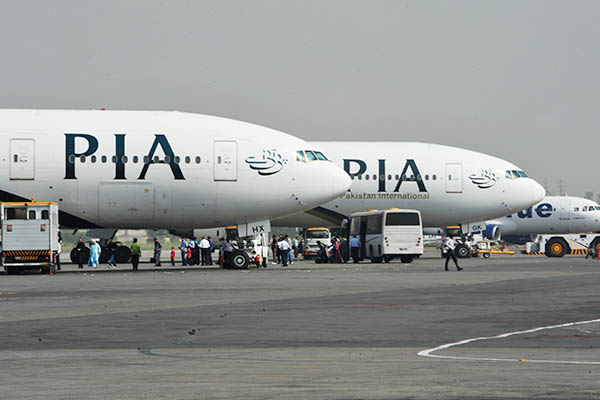 ---
KARACHI:



Ask any executive in the airline industry and he would tell you it is the worst business to invest in. Slim margins, wild fluctuating cost, impact of geopolitical events and fear of disease outbreak are just some of the woes faced by most carriers.




"It's the charisma associated with the airline that people jump into it without realising what's in store for them," said an airline executive.

Pakistan itself saw a number of airlines which were launched with much fanfare but went down quickly. From Bhoja to Aero Asia, all domestic airlines, which popped up after deregulation in the 1990s, faced financial and managerial difficulties.

The business has become 'survival of the smartest and the slimmest' as airlines have dropped rigid models, continuously looking for ways to remain afloat.

From removing extra trash bins, controlling use of onboard toilets to stopping meals, airlines are adopting every conceivable method to cut cost.

PIA has been slow on this front but a committee led by Captain Suhail Baloch has finally been constituted to take necessary steps. A detailed report prepared by the Pakistan Airlines Pilots Association (Palpa) shows small things like slowing the speed of an aircraft can help save Rs18 billion.

The single largest saving of Rs5 billion is envisaged to come from changing the position of Instrument Landing System (ILS) at Karachi and Islamabad airports.

Palpa says each international flight landing in Karachi has to take an extra 10 minutes of detour. "The plane comes from Arabian Sea, goes all the way to the Karachi Steel Mills area and then it lands at the airport. We just need to instal ILS on other part of the runway and planes will land directly," said a pilot.

With average operating cost of planes at Rs25,000 per minute, the airline would save over Rs1.3 billion on an average of 15 daily flights which land at the Karachi airport.

Airlines can no longer afford leniency and fiscal leakages. A pilot normally knows the entire weight of an aircraft before it lands but that is not the case with PIA.

The link, which would tell the airline's central command and the pilot in the cockpit how much luggage and cargo are aboard, does not work.

"It doesn't work because the person responsible is making a cut by letting the extra stuff on the plane," said an official responsible for fixing the problem. "Less weight would mean less fuel consumption."

When the pilots don't know about the exact weight, they also fail to decide how much fuel is needed. It is estimated that on a modern aircraft, 300 litres is needed just to support weight of 1,000 litres being carried to power the aircraft.

Union workers say whenever workers are pushed they have given extraordinary output. And this happened last week.

PIA's B-777 international flight normally takes two hours to take off again after landing. But last week, ground staff in Peshawar cleaned the seats, loaded supplies, let old and young Hajj pilgrims board the aircraft and made it ready to fly again in 40 minutes.

Published in The Express Tribune, September 30th, 2013.

Like Business on Facebook, follow @TribuneBiz on Twitter to stay informed and join in the conversation.
COMMENTS (3)
Comments are moderated and generally will be posted if they are on-topic and not abusive.
For more information, please see our Comments FAQ