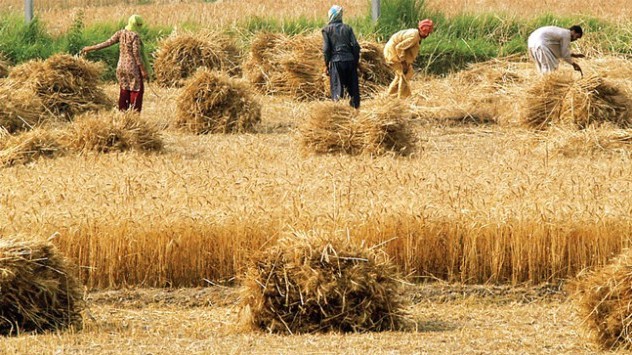 ---
ISLAMABAD: Pakistan, Asia's third-largest producer, will harvest 23.87 million metric tons of wheat this year, said agriculture minister Nazar Muhammad Gondal.

The country will export wheat after this year's harvest as stocks of 2 million tons from last year may exceed demand, he told reporters in Islamabad today after a meeting of a committee on agriculture.

Farmers gathered 24.03 million tons of the grain in 2009. Shipments by Pakistan may add to losses in global prices of the food staple. Wheat has tumbled 29 percent from last year's high of $6.77 a bushel in Chicago amid increasing world supplies.

Pakistan wants to boost farm output, which accounts for a quarter of its gross domestic product, after wheat and sugar shortages in past two years caused nationwide riots.

Farmers may harvest 14 million bales of cotton this year, from 12.7 million bales last year. Cotton is planted between April and June, and harvested between October and December.

The committee set a target to harvest 53.7 million tons of sugar cane this year, from 47 million tons last year. Sugar imports won't be needed if the target is met, Gondal said. The country is seeking to import 1.25 million tons sugar this year after cane production fell last year. Rice in 2010 will be 6 million tons, from 6.7 million tons last year, he said.

However, the government's decision to allow export of two million tons of wheat will cause a loss of Rs20 billion, flour millers say. The government should supply wheat to the local market in order to bring down flour prices and create employment opportunities, they said. They said the price of wheat in the international market was low as compared to the local market and the government should keep its surplus crop in the country.

The prices of wheat in the international market are in the range of $180-220 a ton (Rs612- 640 per 40 kg) while its price in the local market is $280 a ton (Rs950 per 40 kg). The government would have to bear a loss of around Rs330 per 40 kg (Rs8,500 a ton) in the export of wheat.

"On the other hand, if the government provides wheat to the local market it will reap benefits," a miller said.

The Pakistan Flour Mills Association (PFMA) has requested the government to supply wheat to the millers at Rs850 per 40 kg. They demanded supply of one million tons to enable them to reduce prices of flour in the local market.

PFMA Chairman Liaqat Ali Khan said the millers would also be able to export flour to Afghanistan and India. "Flour and other products are finished items and if wheat is grinded it will provide employment in the domestic market," Khan said, adding the government should not opt for exporting wheat as it would not be a good move.

PFMA former chairman Aslam Bilal Soofi said the government should not listen to the 'commission mafia' and should withdraw the permission for wheat export.