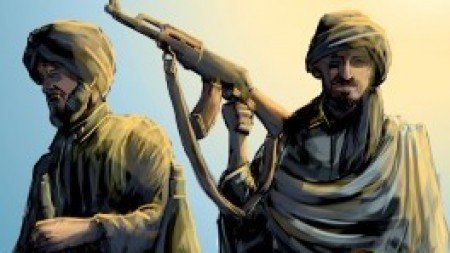 ---
LAHORE: It's a whole new spin on the criminals-with-hearts-of-gold theme.

Contract killers Fidaur Rehman and Ziaur Rehman are currently in remand for having murdered PML-N's provincial assembly candidate Chaudhry Asif Ashraf in 2008.

And the song they're singing, say the police, is that the Taliban told them that contract killings and extortion that finance the Taliban effort are also "a service to Islam".

The facts of the case are simple. Ashraf was gunned down the night before the election in 2008, in what was thought to be a politically-motivated murder. But a probe by the Lahore police's Crime Investigation Agency, which led to the arrest of the Rehman brothers, showed otherwise.

During interrogation, the police say, the brothers said they used to work for criminal Akhtar Joya, killed in an encounter with the Kasur police two months ago. But about a year and a half before his death, the Rehmans told the police, Joya forged close links with the Taliban.

He apparently got from them a fatwa stating that criminal activities used to fund the Taliban weren't illegal and robbing 'so-called Muslims' of their money was a service to Islam. Their consciences appeased, Joya and his group continued with business as usual. The Ashraf murder case was one such 'service'.

In 2008, Ashraf's father-in-law Chaudhry Hakim Ali (former PPP MPA from Kasur) and brothers-in-law Waqar and Tariq took out a five-million rupee hit on Ashraf. According to what the Rehmans narrated to the police, the Joya group used to subtract its share and promptly funnel the rest to Taliban in the tribal areas.

The Rehmans think the money was used to fund the effort against the Pakistan Army. The part of the story that remains untold, say CIA sources, is the extent of the support the Taliban have managed to gain from quarters such as these. Joya and the Rehmans, they say, used to work for themselves once but then started working almost exclusively for the Taliban.

Their reasons are said to have been ideological: the three are said to have forcibly implemented Shariah in their village and to have meted out what they used to call 'Islamic' punishments. Part of the work was funding but another part was acting as terror 'facilitators'.

"The Rehmans aren't the only criminals involved with the Taliban," insists Lahore chief SP Umer Virk. "Members of outfits like Lashkar-e-Jhangvi are mostly Taliban 'facilitators' who provide them with explosives and identify targets for them." The Ashraf case, claims Virk, is just one example of how these 'facilitators' get money for their Taliban friends.
COMMENTS (1)
Comments are moderated and generally will be posted if they are on-topic and not abusive.
For more information, please see our Comments FAQ