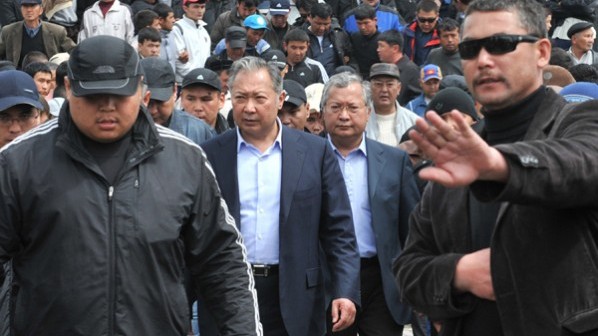 ---
BISHKEK: The interim authorities in Kyrgyzstan on Tuesday stripped ousted president Kurmanbek Bakiyev of his immunity to prosecution, warning he will be arrested unless he surrenders.

The move was the boldest yet against Bakiyev by the new government, which had so far said it would refrain from arresting him to avoid further bloodshed after protests that ousted him last week left 83 people dead.

"The temporary government has taken the decision to remove the immunity of the ex-president of Kyrgyzstan Kurmanbek Bakiyev," said the interim government's deputy head Azimbek Beknazarov.

Bakiyev is currently in the southern Jalalabad region, his stronghold, after fleeing the capital Bishkek amid the protests. The ousted president remained defiant on Tuesday, holding a rally in Jalalabad attended by thousands of supporters and irritating his opponents by still refusing to formally step aside as president.

"We can see that the president does not want to step down voluntarily and instead is issuing calls for actions against the people," said Beknazarov.

"We have waited for him until today but today he is holding a meeting in Jalalabad," said Beknazarov. "A criminal investigation has been opened and if Bakiyev does not come by the end of the meeting in Jalalabad, we will begin an operation to detain him with the help of the special services," he said.

He accused Bakiyev of surrounding himself with Chechen mercenaries and preparing to resist any attempts to arrest him by force.

The interior ministry confirmed 83 people had died in the protests that led to the ousting of Bakiyev, raising a previous toll. More than 560 people were still hospitalized and more than 1,600 were wounded, it said.

At Bakiyev's rally in Jalalabad, his second in the region after emerging from hiding on Monday, 5,000 supporters chanted his name and cheered wildly as the deposed leader took to the stage, an AFP correspondent reported.

"Take your hands off the legitimate president!" said a banner. Bakiyev, who himself came to power in a popular uprising known as the Tulip Revolution in 2005, launched his speech with a defiant defence of his record as president. "My power does not come from me, it comes from the people," he declared, surrounded by dozens of bodyguards.

The deposed president said that thanks to his rule "Kyrgyzstan is now to be reckoned with, we have earned the respect of the United States, Russia and China."

The rally ended peacefully as the people dispersed. Bakiyev had agreed a new accord with the United States on the Manas airbase in Kyrgyzstan vital to US military operations in Afghanistan, an agreement the new authorities have indicated they intend to honour.

A top US diplomat, assistant secretary of state for South and Central Asian affairs Robert Blake, is due in Kyrgyzstan on Wednesday for talks with the interim government about security and the holding of elections.

"We don't recognize governments, we recognize states," Blake said when asked about whether Washington would recognize the interim government.

A US official said the situation with Bakiyev 'remains unclear' and "needs to be managed by the Kyrgyz (people) themselves in accordance with the Kyrgyz constitution." The interim government led by ex-foreign minister Roza Otunbayeva has been seeking to shore up its grip on power in recent days, sacking mid-ranking officials as well as seeking international recognition.
COMMENTS
Comments are moderated and generally will be posted if they are on-topic and not abusive.
For more information, please see our Comments FAQ