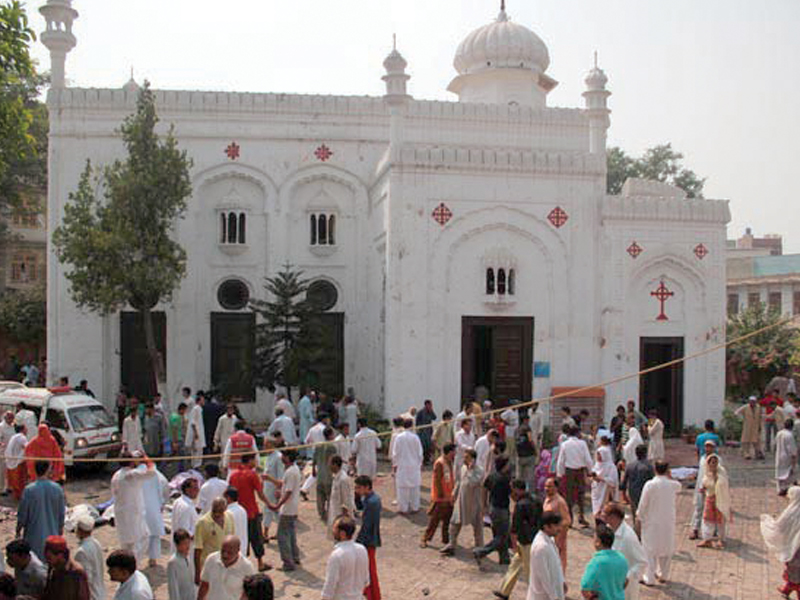 ---
PESHAWAR:



So mindful were the Christians of Muslim sentiments that when they built Peshawar's All Saints Church in 1882, they made it look like a mosque. Local artists were even hired to inscribe Biblical verses in Persian and Pashto.




"One could say it is probably the only church of its kind in Pakistan modeled after a mosque with a dome and minarets," said Dr Ali Jan, a conservation activist who has done research on the city's churches. "Its architecture is unique."

All Saints Church was attacked after Mass on Sunday by two suicide bombers, leaving at least 78 of the worshipers dead and scores others injured.

The church is located in the old city at the opening of Koochi Bazaar inside Kohati Chowk, a stone's throw from a large Christian colony on City Circular Road. This means that the parish for All Saints was made up in a large part of the colony's residents, a majority of who are sanitary workers with the Peshawar Municipal Corporation.

The church came about after Reverend Thomas Patrick Hughes, a Church Missionary Society member bought the land to build a pastor's house close to Edwardes Mission High School, the oldest school in the city. The wife of the Punjab governor at the time, Lady Aitcheson, helped raise funds for the construction.

Work started in August 1882 and the church was opened on St John's Day on December 27, 1883. According to late archaeologist Dr Ahmed Hassan Dani, the mosque's architecture was successfully adapted to its white cruciform form.

Several memorial plaques for Englishmen back in the day can be seen inside. Dr Dani, in his book Peshawar: Historic City of the Frontier, said there is an exquisitely painted door at the end of chancel, or the space around the altar, that was gifted by the Lady Herbert Edwardes, wife of the commissioner of Peshawar in the 1850s and one of the founders of the Peshawar Afghan Mission.

All Saints Church was going to commemorate 130 years of existence in December this year. This bears testament to the long tradition of interfaith harmony in the city. Peshawar has nine churches, the oldest being St John's Church, constructed in the 1850s, on Sir Syed Road which houses the Diocese of Peshawar and works under the Diocese of Lahore.

Masjid Dervish and St Michael's Catholic Church on Peshawar's Mall Road share a boundary wall - one of the oldest churches of the province and one of the largest mosques of the city have thus existed in complete harmony for decades.

Peshawar's other churches include Seventh Day Adventist and other smaller churches and they tend to a population of about 60,000 Christians.

Published in The Express Tribune, September 23rd, 2013.
COMMENTS (2)
Comments are moderated and generally will be posted if they are on-topic and not abusive.
For more information, please see our Comments FAQ