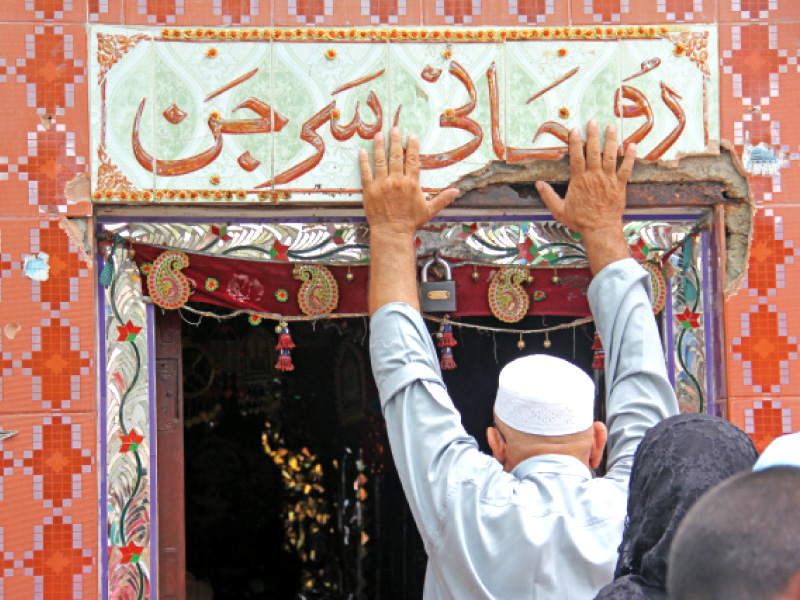 ---
THATTA: Six-year-old Uzefa's swollen body was covered with 'healing' mud that his mother had put on him. While he appeared to be unconscious, his mother waited calmly at the shrine of Hazrat Syed Shah Yaqeeq Baba aka Roohani Surgeon for a miracle to cure his kidney problems.

"It isn't my son's belief but mine, which is why I'm given the instructions in my dreams," said Aasia, who hails from Sanghar.

During a visit to the Jinnah Postgraduate Medical Centre a few months ago, doctors diagnosed Uzefa with kidney problems. According to Aasia, the first dose of medicines didn't work and the treatment was too expensive for her family. "I brought him to the shrine because I know Baba can cure my youngest son," she told The Express Tribune, also cautioning that Baba's treatment comes with rules to be followed. "Uzefa was well within three nights but his condition became serious when I left the shrine without Baba's permission - I shouldn't have left, it's my fault."

Believers only

Aasia's first visit to the shrine, around ten years back, made her a 'believer', even leading her to bring her husband and daughter later on. "It's my belief and I am sure my son will be cured soon," she said softly.

Abdul Ghafaar from Faisalabad is another such 'believer' and is called the "old patient".

"I came here to get rid of a Hindu demon. My own family members had turned on me due to property issues," he said. "I found relief at the shrine. Baba can make one's life peaceful."




According to Saleh Muhammad, who visits the shrine every week from Korangi, Karachi, none of the renowned doctors in the city could find treat his 16-year-old son, Kaleem. Handcuffed and anxious, Kaleem runs around the shine while asking his father to let him play. "He used to take sleeping pills earlier but now he sleeps well without them. My family believes Kaleem will be fine one day."

Within five minutes' walking distance is another shrine, Shehanshah Hazrat Abdullah Shah Baba Bokhari aka Jalali Shah Baba, which is also known for its healing powers. Most of the 'patients' here are chained or handcuffed and are looked after by attendants so that they do no not harm themselves or others.

Shaheen, 39, is one such 'patient' who runs, jumps and mumbles to herself. "We got married seven years ago and don't have a child as yet," said her husband Niaz Ahmed. "I didn't take her to any doctor since I know the problem is an evil spirit and doctors can't do anything."

Miracles of Baba

Along with the regular visitors who tell the newcomers stories of 'miracles', certain 'Khadims' posted by the Sindh Auqaf Department also guide the visitors to use 'special' oil, petals, mud and water and will count their benefits. "Miracles happen for those who believe," said one of the khadims. "People from all classes visit and believe in miracles of Baba."

One of the visitors, Muhammad Yaqoob, suggested that since some of the patients need professional help, the government should set up hospitals near such shrines. "The government and clerics are also responsible as they don't guide the people to seek proper treatment. Hundreds of people along with their families visit different shrines in different parts of the district but no one educates them," he said. "Islam spread from Thatta, the first mosque of Asia is in Thatta and renowned Ulemas were born here, but the extent of misbelief in the district is very painful."

Apart from these two, there are dozens of other shrines in Thatta where people visit for solutions to their miseries. These include the shrines of Abdullah Shah Ashab, Shah Goor Ganj, Shah Murad Shah Shirazi, Muhammad Hasham Thattvi, Peer Patho, Jamil Shah Datar, Shaikh Hali, Haji Allah Dino Mandhro, Sufi Shah Inayat, Shah Paryon and Satyoon.

Published in The Express Tribune, September 22nd, 2013.
COMMENTS (3)
Comments are moderated and generally will be posted if they are on-topic and not abusive.
For more information, please see our Comments FAQ