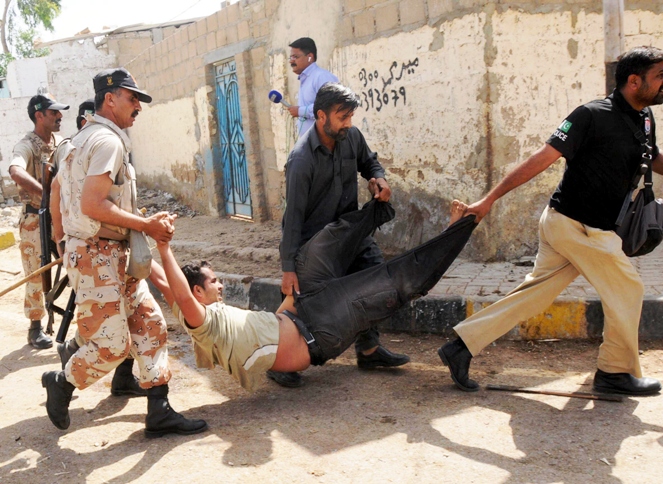 ---
ISLAMABAD: The Federal Cabinet on Friday approved amendments to the Anti-Terrorism Bill, sanctioning more powers for Rangers in their endeavour to restore law and order in Karachi.

The decision was taken in a cabinet session chaired by Prime Minister Nawaz Sharif.

The revised draft of the bill will now be presented before the Parliament for approval.

•   The amendments will allow security forces to 'use force' to prevent a terrorist act, with omission of the phrase 'when fired upon'.

•   Target killers, extortionists and kidnappers will also be treated as 'terrorists'.

•   The armed forces or civil armed forces will be authorised to detain a person involved in such offences for three months for investigations.

Besides giving the Rangers greater powers, the proposed amendments also include ensuring protection of witnesses as part of a larger effort to stem terrorism within the state.

In that regard, the measures include "using screens to shield witnesses, judges and prosecutors from public view; trial in jail premises or through video link; investigation and trial in another province and ensuring no access to mobile phones for prisoners in jail."

The cabinet also decided to constitute a special committee to review the proposed bill for local bodies act for the federal capital.

While speaking on law and order within the country, the Prime Minister expressed satisfaction over the ongoing targeted action in Karachi, remarking that the common man was satisfied with the operation and a positive outcome was guaranteed.

He directed the federal government institutions to ensure full cooperation with the Sindh government to restore law and order in Karachi.
COMMENTS (10)
Comments are moderated and generally will be posted if they are on-topic and not abusive.
For more information, please see our Comments FAQ