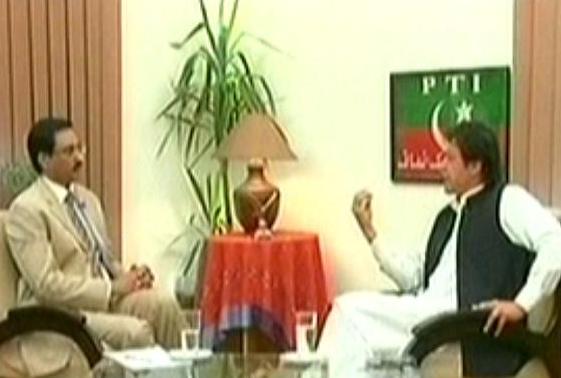 ---
ISLAMABAD: Pakistan Tehreek-e-Insaf (PTI) chairman Imran Khan said on Thursday that General Ashfaq Parvez Kayani's term as Chief of Army Staff should not be extended any further, while speaking in an interview on Express News.

Talking to anchorperson Javed Chaudhry in a show called "Kal Tak", PTI chairman said he appreciated Prime Minister Nawaz Sharif for calling the All Parties Conference (APC) to devise counter-terrorism strategies.

He, however, added that in order to curtail crime, national institutions needed to be strengthened, as opposed to individuals and therefore General Kayani's tenure should not be extended.



Asserting that the tenure of former president Pervez Musharraf had also weakened institutions, he said that he wanted cases against former president Asif Ali Zardari to re-open.

"Just because someone is in good terms with the leading party does not mean that they should not be made answerable to their actions," he said, signalling towards improving ties between former president Zardari and Prime Minister Nawaz Sharif.

Earlier, Asif Ali Zardari had said in a press conference in Lahore that he won't let Pakistan Muslim League-Nawaz (PML-N)'s government falter because he was committed to strengthening democracy.

While speaking about the ongoing security situation in Karachi, Khan said that the Muttahida Qaumi Movement (MQM) was the first political party to initiate extortion, and other parties followed in their footsteps.

Taliban talks

On the subject of peace talks with the Taliban, Imran Khan said a ceasefire between the two sides was imperative if talks are to succeed and peace given a chance.

"Ceasefire should be immediately imposed," he said, "especially since it has already been decided in the APC to pursue dialogue as the first option."