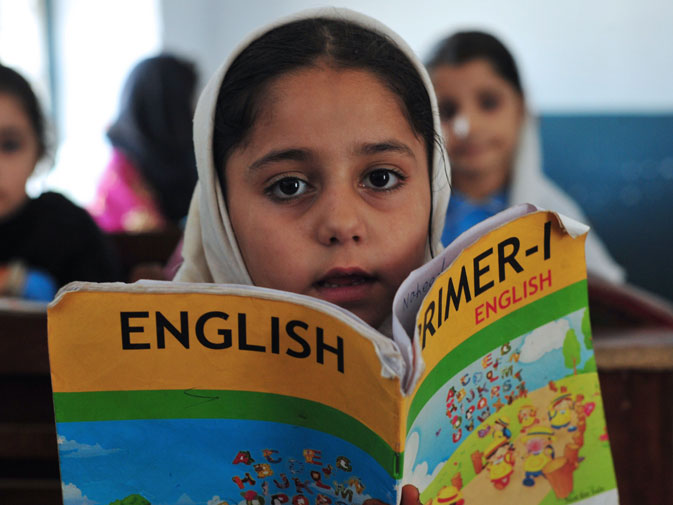 ---
ISLAMABAD:



An ambitious three-day national campaign to enrol 500,000 out-of-school children was launched in the capital on Monday. The Islamabad Capital Territory (ICT) area is targeting 43,000 children in the drive.




The proposed target for each primary school is 50 children. Of the 43,000 out-of-school children, 24,217 are boys and 19,019 are girls, according to the recently-launched National Action Plan 2013-16. The number rises to 130,000 when the age bracket is broadened up to 16 years old age. The plan, which is designed to fulfil the second Millennium Development Goal (MDG), which is to achieve universal primary education by 2015,  fixes the numbers, targets and strategies for enrolling children aged five to nine across the country.

"We plan to enrol over 35,000 students in these three days, for which special arrangements have been made," said Federal Directorate of Education (FDE) Administration Director Shahid Khan. The FDE looks after 424 educational institutes in the ICT. Khan said the routine procedure and tough criteria for admissions have been relaxed to ensure higher enrolment. A nominal monthly fee schools charge will be waived off for children enrolled during the campaign, he added.

According to the National Plan of Action 2013-16 , the number of out-of-school children in the city will be cut down to 5,749 — some 3,547 boys and 2,202 girls — in three years. However, it goes on to say that given the limited capacity in schools, it is not possible to enrol every out-of-school child in public-sector primary schools, especially in the short period of three years. Besides, the admission policy in formal schools does not permit a child older than seven years to enrol in primary school, who will have to be placed in non-formal schools, which too have limitations such as class size and quality of education, said the report.

A comparatively high number of children finish primary education in the capital, as the dropout rate is a relatively low 10 per cent.

Capital Administration and Development Division Joint Secretary Rafique Tahir stated that the two main reasons students drop out in the capital is lack of access to schools and poor quality of education.

The state minister for education, training and standards in higher education has stated on many occasions that it is unlikely that Pakistan will achieve the MDG by the deadline, though the government would try its best.

Published in The Express Tribune, September 10th, 2013.
COMMENTS
Comments are moderated and generally will be posted if they are on-topic and not abusive.
For more information, please see our Comments FAQ