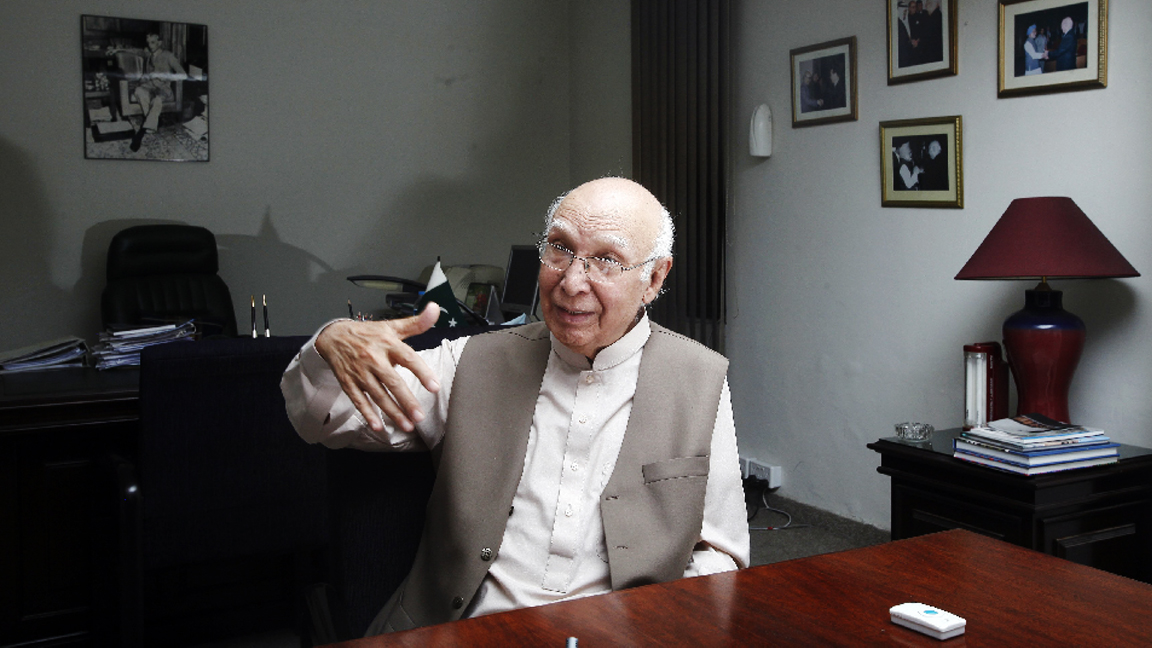 ---
ISLAMABAD:



Pakistan wishes to work with Shanghai Cooperation Organisation (SCO) in promoting regional harmony by acquiring its full membership.




This was stated by Adviser to the Prime Minister on National Security and Foreign Affairs Sartaj Aziz while addressing the concluding session of a two-day international conference on "SCO's Role In Regional Stability: Prospects for Its Expansion" jointly organised by Islamabad Policy Research Institute (IPRI) and Germany's Hanns Seidel Foundation (HSF)  here on Thursday, said a press release issued by the organisers.

He explained that SCO's policies and programmes were in consonance with Pakistan's long term objectives of promoting peace and stability in the region, contain and eradicate the menace of terrorism from the region and work with members to build stronger and more productive relationship in the future.

Aziz, who would be representing Pakistan at the SCO summit in Bishkek next month's 13th, said that political observers were looking towards the SCO for its role in Afghanistan after the US withdrawal when there would be a political and security vacuum in that country.

He said Pakistan had already declared its policy of 'No interference, and no favorites' in Afghanistan in the post 2014 period. If all regional countries followed the same policy and resisted the temptation to fill the power vacuum, then Afghanistan would have an historic opportunity to evolve an Afghan led and Afghan owned reconciliation process, he asserted.

He described China and Russia's membership and their strategic coordination in the SCO framework, the organization's attractive principles of strengthening mutual trust, sovereign equality and rejection of hegemony and coercion in international affairs and its focus on issues directly affecting the member states as the strengths of the Shanghai Cooperation Organisation.

According to Aziz SCO's potential role in linking energy surplus Central Asia with energy deficient South Asia could be a major challenge. On its potential role in the future, he said SCO could intensify efforts to combat terrorism, religious extremism, separatism, organised crime, arms and drugs trafficking.

Earlier speaking in the first session Dr Shabana of Quaid-i-Azam University said that terrorism was not a monolithic enterprise but a multi-dimensional phenomenon and Pakistan needed a holistic counter terrorism strategy and the international community's support to fight it.

She mainly dwelt on the policies of General Musharraf in this fight.

IPRI's Dr Sumbal Khan presented an analysis of the nature of the Jihadi groups and their sectarian and ethnic differentiation.

Russian delegate Dr Ivan Safranchuk explained his country's counter-terrorism strategy. He said that all regional countries should be integrated within some framework to work on the Afghan issue and develop a regional consensus and this respect SCO could be a forum.

Dr Shabbir Ahmad Khan of the Peshawar University discussed the potential of the Gwadar Port and Kashgar Economic Zone project.

Kazakhstan's scholar Dr Yevgeniy Khon and Tajikistan's Vafo Niyat Bekov spoke on prospects of economic cooperation in SCO region and energy cooperation respectively. The conference ended with a vote of thanks by IPRI President former Ambassador Sohail Amin and HSF Representative Kristof Duwaerts.

Published in The Express Tribune, August 30th, 2013.