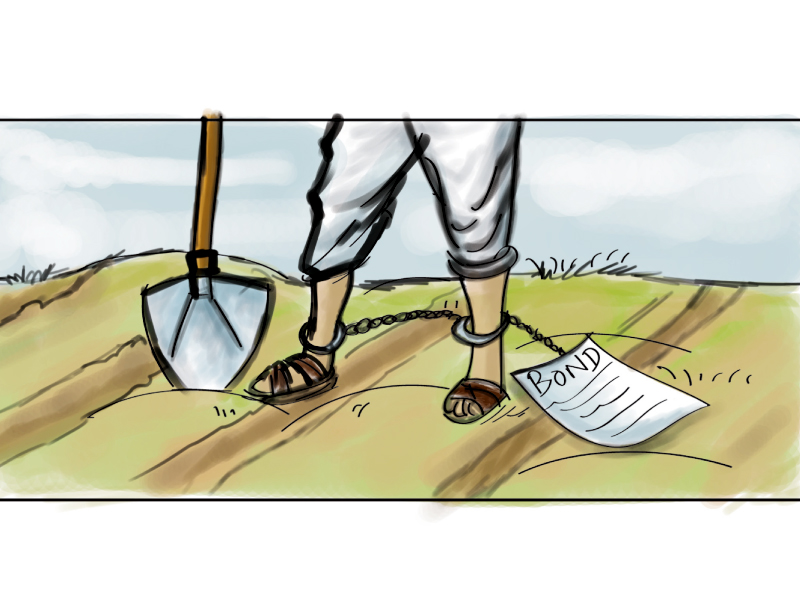 ---
LONDON:



It is politically incorrect to argue for efficiency of slavery or its modern form, bonded labour, but following the academic tradition set by Robert William Fogel and Stanley L Engerman in their fiercely debated book "Time on the Cross: The Economics of American Negro Slavery" (1974), there is some room to debate the issue in the context of Pakistan.




Also, careful use of nomenclature may also help in diluting the negative perception of slavery and bonded labour. In many Asian countries (eg Japan), loyalty has traditionally been rewarded in the form of long (or even life time) contracts to industrial workers and employees of organisations of all sizes and in all sectors.

A loyal workforce is more cost-effective than the floating and opportunistic workers who follow the bucks and switch frequently in pursuit of better pecuniary benefits and career progression.

In Pakistan where bonded labour is still prevalent despite legislation against it – Bonded Labour System (Abolition) Act 1992 and Bonded Labour System (Abolition) Rules 1995 – it is interesting to investigate the nature of bonded labour and its benefits for businesses and workers.




Bonded labour may take many forms including, but not limited to, the following:

* All work or service which is extracted from any person under the menace of any penalty and for which the said person has not offered himself voluntarily (Forced Labour Convention 1930, Article 2(1));

* Open-ended employment contracts with significantly long notice period and/or harsh penalty should the employee decides to quit or switch;

* Extending loans (also known as advance payment of wages and salaries) to employees and their families and relatives to bind them (and members of families in the absence of the employees) to continue to work for a long time;

* Retaining a part of wages and salaries of the employees to ensure that they do not easily quit or switch.

Before dwelling into pros and cons of bonded labour, it is important to understand the weak legal framework for making contracts binding in commerce, trade and industry in Pakistan. It is a common practice in the private sector that employees leave (or switch) jobs at will, sometimes even not bothering to tell their employers of their decision to quit.

Admittedly, the converse also happens whereby the employer may fire an employee on spot.

Developing skills

In most cases, the bonded labourer possesses only one distinct skill, eg brick-making, weaving, farming etc. In some cases, the employers may invest in developing a skill in someone who is subsequently bonded to work for them. The employers benefit in terms of uninterrupted supply of labour in a favourable and cost-effective way.

Ignoring the abuse (which is mostly blamed on the managerial staff with or in most cases without consent or knowledge of the owner-employer), the bonded labourers and their families are taken care of by the employers in terms of shelter and health.

In many cases, the bonded labour arrangements work for the mutual benefit of the parties, the employer and the worker and their families. In case of a possible loss of employment or when such bonded labourers run away, in most instances they end up begging on roads in big cities. The more fortunate ones end up serving as domestic workers in relatively less affluent urban areas where amount of work takes precedence over its quality.

This voluntary or involuntary rural-urban migration brings a multitude of problems to civic life in the urban areas. Mushrooming of slums in and around towns and cities is only one example of such problems. Littering, petty crime and even sex trading are some other examples.

Banning and legislating against bonded labour is not an efficient solution. Creating a comprehensive framework for sustainable welfare of the bonded labour is more important than banning the practice.

Access to credit

Most bonded labourers have access to credit by virtue of the very arrangement between them and their employers. Instead of removing an opportunity to have access to credit, the government must ensure to remove usurious practices that have very negative and long-term implications for the welfare of such workers.

Akhuwat, a charitable organisation specialising in small interest-free loans to the poor and underprivileged, has for some time been offering liberation loans to those who are indebted and face never-ending interest payments on the loans they had to borrow from shark lenders. The Akhuwat liberation loans have ended miseries of hundreds of indebted individuals and families.

Similar arrangements could be developed for the bonded labourers to allow them to make transitions to better work opportunities, without incurring losses to the employers many of whom have already lost billions of rupees following defaults and unwillingness of bonded workers to continue working for such employers.

There is a need to help organisations like Akhuwat to tackle the issue of labour bondage. The government should also take steps to make up for losses of hundreds of businesses that lost considerable sums of money, which the so-called freed workers owed to their previous employers.

The writer is an economist and a PhD from Cambridge University

Published in The Express Tribune, August 26th 2013.

Like Business on Facebook, follow @TribuneBiz on Twitter to stay informed and join in the conversation.
COMMENTS (12)
Comments are moderated and generally will be posted if they are on-topic and not abusive.
For more information, please see our Comments FAQ