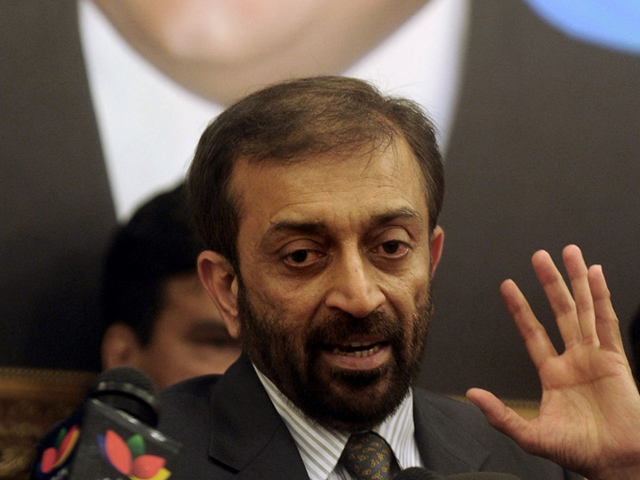 ---
KARACHI: Welcoming the government's move to form a national security policy, Muttahida Qaumi Movement's (MQM) leader Farooq Sattar said that his party will participate in the upcoming All Parties Conference (APC) and outlined his party's proposed policy to combat terrorism in the country on Tuesday.

Introducing a brief of their agenda titled National Counter Terrorism Policy, Sattar during the press conference at the Khursheed Begum Secretariat pointed out that the no area and no province in the country was safe from terrorism today.

Sattar said that while his party favoured dialogues, they had failed on three previous occasions.

"The MQM is not against dialogue with the terrorists. But talks should be on our own terms, and we should decide whom we should talk to and whom we shouldn't."

MQM anti-terror brief

Sattar also unveiled his party's 12-page policy brief that focuses on building a community policing system in every neighbourhood and setting up an anti-rapid force which immediately deals with suspicious persons and their activities.

The policy traced history of terrorism in Pakistan, identifying how military dictator Ziaul Haq sowed the seeds of terrorism which the nation was now facing.

He said that it is very important that the local bodies system is enforced as it will help curb crimes on the lower level.

The MQM policy also discussed education and called for a uniform syllabus and system in education across the country to erase differences.

The MQM leader also called for bolstering intelligence departments, and that their coordination should not be restricted to only federal level, but should be created on provincial level.

Sattar also called for consultations with all stake holders and neighbouring countries as NATO forces prepare to leave Afghanistan in 2014.

The MQM leader called on the nation to get united in this trying time.
COMMENTS (9)
Comments are moderated and generally will be posted if they are on-topic and not abusive.
For more information, please see our Comments FAQ