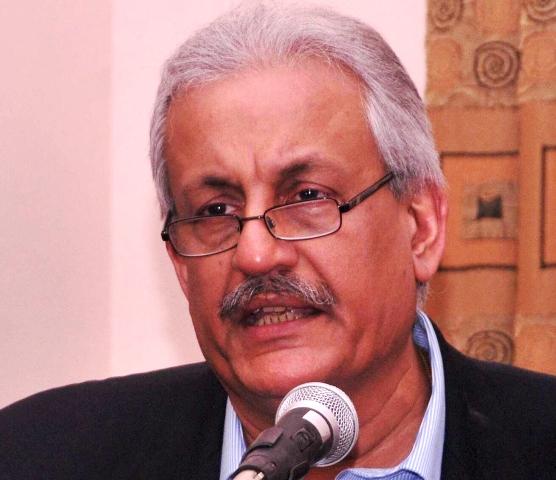 ---
KARACHI:



Senior Pakistan Peoples Party (PPP) leader Senator Raza Rabbani has urged the federal government to seek input from parliament and political parties before making policies for national security.




Addressing a press conference with PPP leaders Taj Haider and Waqar Mehdi at the Karachi Press Club on Monday, he criticised the government for "only pursuing" policies of the civil and military bureaucracy.

"Please stop relying on bureaucracy. The outgoing government had formed a parliamentary committee comprising representatives of different political parties. We demand that the committee be revived, making it functional and considering its guidelines on national security issues," he said.

Raza Rabbani said that during the PPP-led government the parliamentary committee on national security had given a number of suggestions and adopted resolutions with regard to national security.

He called upon the government to take up the committees' suggestions regarding missing persons, NATO supply and proposals about London Conference on Afghanistan.




The PPP leader added, "I will suggest the federal interior minister to get input from politicians and human rights organisations in the task force constituted by the government on missing persons," he said.

Indian aggression

Meanwhile, Rabbani also condemned the Indian aggression and ceasefire violation by Indian border security forces across the Line of Control (LoC).

"The incumbent government has already made it clear that Pakistan believes in dialogue, therefore the provocative attitude of the Indian forces is intolerable," he said.

He, however, criticised the PML-N-led government on failing to maintain the law and order situation in the country. He added that more than 55 incidents of terrorism had taken place claiming dozens of innocent lives.

"The government should focus on internal terrorism and sectarian killings. Though the All Parties Conference has been postponed, it is high time for the prime minister to invite leaders of different religious and political parties, and heads of intelligence agencies to discuss the issue and seek an amicable solution," he said.

Rabbani also pointed out that there was lack of coordination between the intelligence agencies and local police and Rangers to cope with terrorism and criminal activities in the country.

Kerry's visit

Regarding US Secretary of State John Kerry's recent visit to Pakistan, the senator said, "Our government is terming it a successful visit, but Kerry has stressed upon crushing militancy and cross border terrorism. He had directed the government to 'do more' and asked to continue the drone policy," he said.

The senator dispelled the impression that terrorists are being released from jails by the courts, but added that owing to the feeble prosecution system the government had failed to frame strong cases against terrorists and criminal elements.

Published in The Express Tribune, August 13th, 2013.