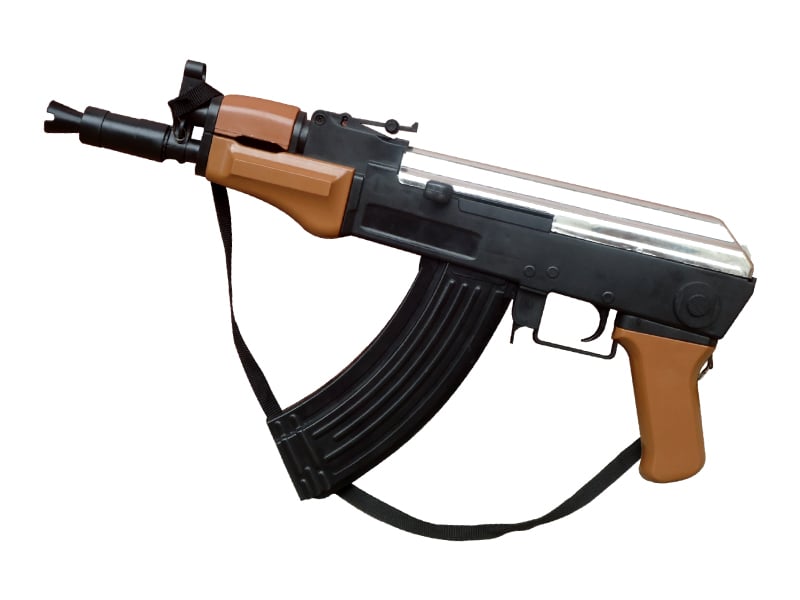 ---
KARACHI:



US special forces killed al Qaeda chief Osama bin Laden over two years ago – but the influence of the global terror icon refuses to die down.




This Eid, a new toy gun was introduced into the markets in Karachi and it sold like hot cakes. The gun was named after Bin Laden.

"This is Osama gun. It became instantly popular among children," a dealer in downtown Paposh Nagar said, pointing to a Kalashnikov-like toy gun. "I bought 500 Osama guns and they all sold out on the first day of Eid. And the demand is still there."

According to the dealer, while the price of a toy gun ranges from Rs200 to Rs2,000, the Osama gun has a fixed price of Rs450.

Warped psyche

Gaining commercial benefit from men 'demonised by the West' has long been a practice in the Muslim world. Saddam Hussain, Osama bin Laden and Colonel Qaddafi are still considered heroes by many.

During the Gulf war, many children born were named Saddam, and his posters spread across the Iraqi landscape like wildfire. Today, on the streets of Karachi, children are playing their favourite game – chor (thief) police – with Osama's gun.

According to Dr Hyder Abbas Rizvi, the former chairman of Karachi University's department of psychology, commercial entities are benefitting from the sentiments of the general public by naming the toy gun after Osama bin Laden.

"Whether the death of Osama was [more] propaganda or [more] reality, I don't know," says Rizvi. "But he is considered a hero in our society."

Rizvi adds that the wanted man's capture and death was also dramatised by the West, in the famous film Zero Dark Thirty. The movie, and ensuing video games, made soaring profits.

Pens over guns

Rizvi reinforces how linking the name to the gun has further ingrained Osama bin Laden's character into the consciousness of children.

"This move benefits those who are spreading bin Laden's and al Qaeda's ideology in our country the most," he explains. "It is lethal for our society. First, the kids will play with toy guns. Then, when they get older, they will play with real guns."

Nangyal Yousufzai, a Pushto poet who has been working against the toy gun culture rampant across the country, agrees with Rizvi.

"Those who have introduced this gun are followers of extremism. They are promoting their ideology by promoting bin Laden's name among children," he states firmly.

Yousafzai's NGO, Hunar Kor, sports the motto 'say no to toy weapons'.

"We should save our children from the gun culture, which is one of the main reasons for the spread of terrorism in the region," says Yousufzai. "If we introduce our children to books and pens, we can counter extremism. We can nurture a good generation."

Published in The Express Tribune, August 13th, 2013.
COMMENTS (10)
Comments are moderated and generally will be posted if they are on-topic and not abusive.
For more information, please see our Comments FAQ