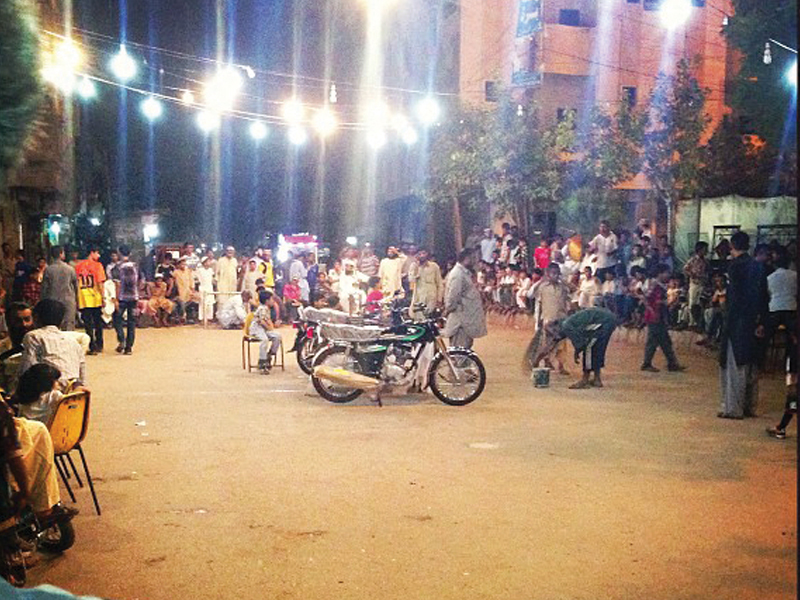 ---
KARACHI:



On Wednesday night, Lyari witnessed the worst terrorist attack in its history. Not long before disaster struck, 17-year-old Abdul Basit prepared excitingly for the match.




"Tonight there's going to be a huge crowd," he told his family. "I'll need to get there early if I'm going to grab the perfect spot to enjoy the final." With those parting words, Abdul Basit headed out to Mir Ghous Baksh Bizenjo Park, known locally as Bizenjo Chowk, to watch the final match of the street football tournament. His father, Abdul Rashid, a rickshaw driver, and his mother could not know that this would be the last time they saw their son.




This football tournament is a regular feature of Lyari streets during Ramazan evenings. An hour before the match starts, the grounds fill with people. Some find seats on the rooftops of shops, others on buildings or on buses parked nearby. The match - played between Ladla 199 and Ladla 102 - was a nail biter for the spectators. It eventually ended in a draw with a score of 7-7. In the end, Ladla 199 were declared the winners after two out of three players from the opposing team failed to score in the penalty shoot-out.

The supporters of 199 erupted in cheers. The children started running along behind Atif Ali, aka Messi, who was holding the winning trophy. The team ran a victory lap around the makeshift pitch - more accurately, the road they were using as football grounds. After meeting their coach Yasir Baloch, who also died in the blast, the team decided to run along the streets of Lyari to show everyone they had won. What they did not know as they were relishing their moment of triumph was that a group of cruel, heartless terrorists had other plans for them.

As the cheering kids moved a few yards from the field, a huge explosion was heard. In an instant innocent exuberance and joy turned to misery and grief. I was sitting a few yards from blast site and saw thick black smoke envelope the area. There was a brief, terrible silence; then the air was filled with the cries of kids and of people sobbing and wailing. There was a stampede and, for a few moments, a scene of total chaos. Then the rickshaw drivers went into action, rushing to the scene, gathering the dead and the injured and ferrying them to nearby hospitals.

I could not help notice that the police and representatives of other law enforcement agencies were shockingly slow to show up, reaching the scene an hour after the explosion occurred. In stark contrast to the courage and presence of mind demonstrated by the rickshaw drivers, they seemed too frightened to even talk to any of the witnesses. They failed to cordon off the crime scene and abandoned it altogether after a scant hour of "investigation". Lyari's future David Beckham, Lionel Messi, Didier Drogba , Cristiano Ronaldo, Zinedine Zidane, Luís Figo and Nymer were lying in pools of blood.

Throngs of older men and women descended the spot, desperately searching for their loved ones. Those who found their kids alive started kissing them in relief, while those whose loved ones were among the dead or injured headed to hospitals.

Thousands of Lyari residents await this traditional Ramazan tournament that senior footballers organise every year. Most parents allow their children to participate because they know even the gangsters let go of their guns to make sure the matches take place peacefully. This is no longer the case. The organisers of the Karachi Mohammedan Football Club have declared that, "Lyari may not organise any football tournament next Ramazan."

Abdul Basit always preferred to be called Lionel Messi by his friends. He was not alone in adopting the name of a football idol as his own. Another blast victim, Abdul Khalil, in his early teens, was happy to answer to Christiano Ronaldo. Their innocent dreams, along with those of hundreds of Lyari kids, now lie beneath the rubble of a terrorist blast.

Published in The Express Tribune, August 13th, 2013.