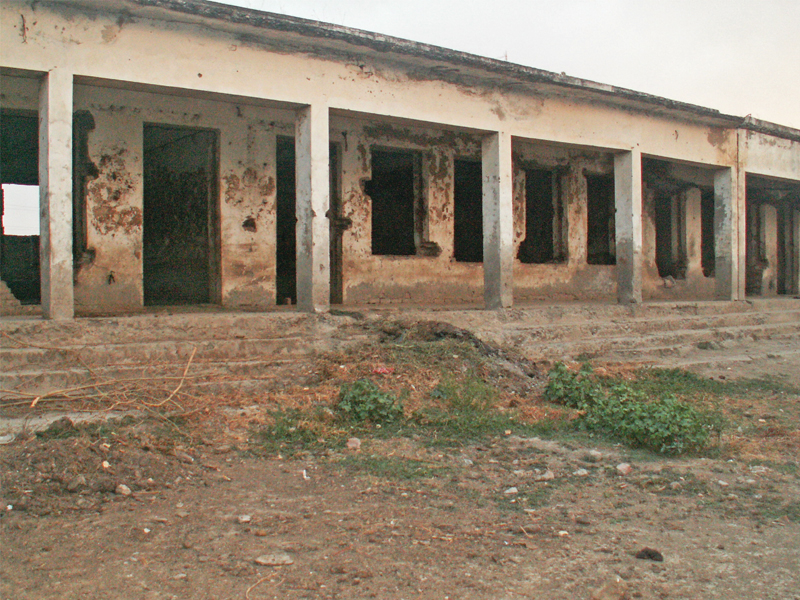 ---
PESHAWAR: Established in 1990, Girls High School, Mayar gradually transformed from being a centre of learning to a barn where locals illegally house their cows.

The land for the school was donated by Abdul Ghafoor, grandfather of MPA Ubaid Mayar. At the time of its construction, locals protested and questioned why the school was being built outside their village. The protests eventually led to the school being abandoned and later turned into a makeshift barn.

The education department's assistant district planning and development officer Khalid Khan said the locals questioned why the government had established a school outside their immediate vicinity. "They refused to send their children here and decided to enroll them at Mayar Middle School instead," he added.

"The education department did not have space for the building anywhere and officials tried convincing the people to send their children to the school," said Khan. They were told once children start attending the school, people will start building houses near it, he added. "But we could not convince them and they closed the school by force."

Now that the area has become densely populated, people are realising and regretting their past stubbornness. "They do not deem it feasible to send girls to other villages for high school," maintained Khalid.

Coming back to life

After conducting a survey of the school building, the education department has directed the Communications & Works Department (C&W) to include the abandoned school in the Annual Development Programme. "This will take a year or so because the building is deserted and needs to be reconstructed," informed Khan.

Provincial lawmaker Ubaid Mayar said the Pakistan Tehreek-e-Insaf (PTI) government will soon reconstruct the building. He claimed locals are convinced another school for girls will also be constructed during PTI's tenure aloLng with the present one.

He criticised former governments of the Awami National Party (ANP) and Muttahida Majlis-e-Amal (MMA) for not taking any initiatives to build new schools. "People are criticising the PTI for ghost schools, but these schools have been there since 1991 and no one asked about them," he added.

National Community of Pakistan's Vice President in Mardan, Sareer Khan said he has sent a letter regarding the ghost school to the human rights office in Islamabad, requesting them to take notice of the building being used by locals for storing livestock.

Lawangeen Khan, a local, claimed some villagers requested former parliamentarian Himayatullah Mayar to rebuild the school, but the plea fell on deaf ears. Lawangeen did not allow his sister to study in another village as a result, "If the school in our village was functional, I would have allowed my sister to study."

Published in The Express Tribune, August 13th, 2013.