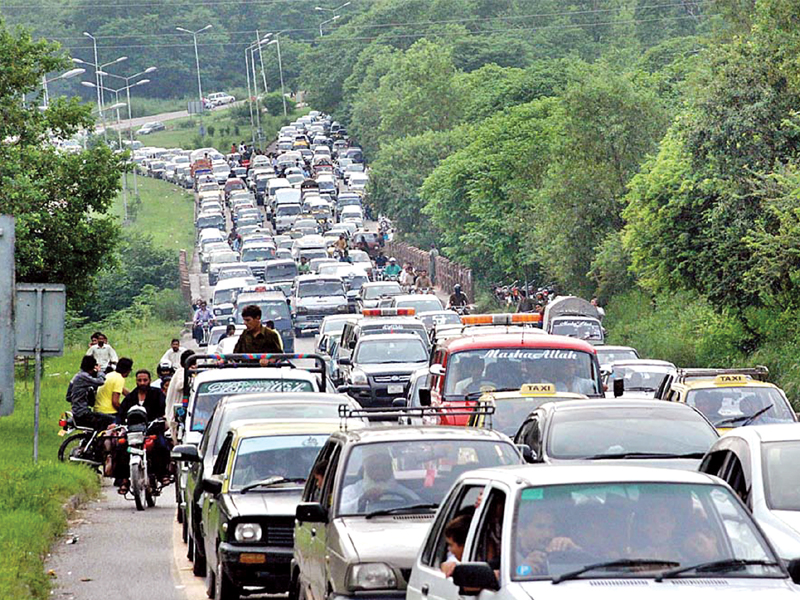 ---
ISLAMABAD: For many in the twin cities, Eid was about venturing out and having a good time. Despite the presence of heavy security, vehicles and bikes flooded public parks and roads.

In Islamabad, the main Margalla Road was packed with traffic throughout Eid day. Families decked up in new clothes were spotted cruising around in their cars.

Youngsters on bikes had travelled from Rawalpindi to Islamabad to join in on the celebrations.




"I spent two days with family. Today, my friends and I will have a casual drive around Islamabad, eat something and go home. That's Eid for us, said Ali Asghar from his car, with music blasting in the background.

Pleasant weather on Sunday made the decision of going up to the hills an easier one. "The rush started on chaand raat, since when hundreds of cars have gone up to Daman-e-Koh and Pir Sohawa," said an official at the Margalla Hills checkpost, where over 10 police officials have been deployed to enhance security.

"We have been directed to search each and every car thoroughly. Islamabad used to be very calm during Eid, but the past few years have seen increasing crowds," he added.

People also thronged public parks in droves. A family picnicking at the 7th Avenue greenbelt said it was difficult to find a secluded spot during the busy Eid holidays.




"We visited a number of parks, which were all very crowded. While the spot we eventually chose is on the main highway, which may be a little noisy, we are satisfied because we are getting a good view," they said.

Abdullah Ahmed, another parkgoer, didn't mince his words. "Beggars can't be choosers," he said.

The Centaurus Mall administration said that around 15 to 20 thousand visitors flocked the mall over the course of the Eid holidays.

"It's fun to be somewhere where there are lots of people. Whether they are shopping or eating, there is a festive feeling here as compared to other parts of the capital," said Tania Qureshi, a visitor.

Recalling older times, Haaris Qureshi, a resident of Islamabad for the past 29 years, said he had to divert from his regular route on Eid day because of the rush on the capital's major arteries.

"Islamabad used to be dead during Eid, but nowadays it's overcrowded," he said. "People who migrate to Islamabad for work have now started calling the capital their hometown. Instead of returning to their native villages to celebrate big occasions such as Eid, they invite their families here. Because of this growing trend, too many people are visiting too few places, and the results are there for all to see."

In Rawalpindi, Jinnah Park and Ayub Park drew massive crowds on all three days of Eid. Families, couples and youngsters thronged the parks for entertainment. Queues that stretched half a kilometre were seen outside both parks during the Eid holidays.

Cinema halls in Rawalpindi were a definite crowd-puller. Movie shows at Cinepax, The Arena and Cineplex Gold screened full-house shows on Eid day.

Published in The Express Tribune, August 12th, 2013.
COMMENTS (1)
Comments are moderated and generally will be posted if they are on-topic and not abusive.
For more information, please see our Comments FAQ