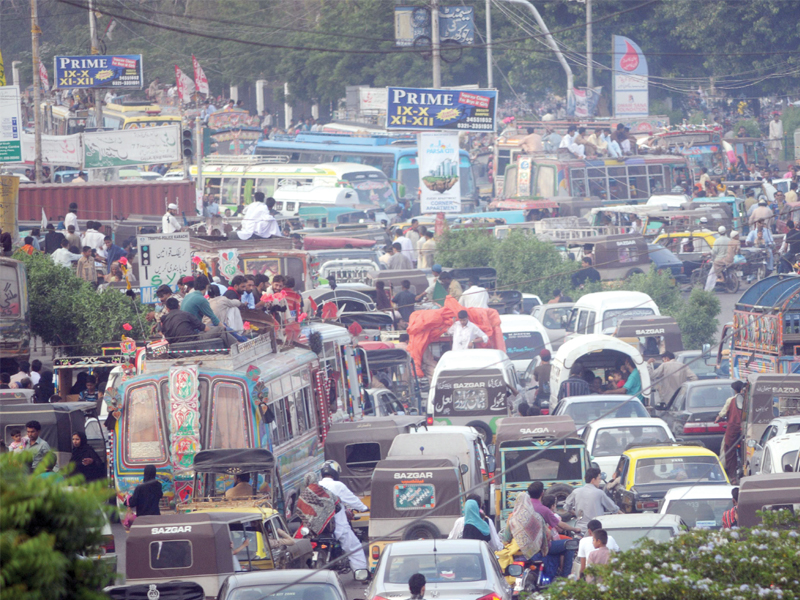 ---
KARACHI: Traffic gridlock road accidents during the three days of Eid dampened the spirit of citizens as seven people were killed and several others were injured. Many people were stranded for hours in massive traffic jams on roads leading to parks and entertainment spots in the city.

According to the Karachi traffic police, six separate fatal accidents took place because of reckless driving and the heavy flow of traffic as Karachi'ites thronged picnic spots and parks.

Three people died in district East and a couple in district West was hit and killed by two speeding buses, on the Defence turn, said a source in the traffic police.

"I wanted to take my children for an outing, but I got terrified by the irritating noise of muffler-less motorcycles passing through roads like ants and I had to ask my children to stay at home," said Haroon Ahmed, a resident of Clifton.

"It seemed that the entire city was on the roads on the eve of Eid. I don't know why we have become so crazy and impatient that we can't wait at signals. The drivers also rammed into each other, causing gridlock," said Ahmed.

Fazal Khaliq, a driver of Marwat Coach, said that the drivers of the public transport committed mistakes during Eid days because of the massive traffic on roads. "To impress girls, they raced on roads, eventually hitting people. Sometimes to catch more passengers, they try to reach a bus stop quickly and cause accidents," said Khaliq. He was not satisfied with the traffic police performance during Eid. "The traffic police was less in number on the first two days of Eid than on routine days," he said.

According to deputy inspector general of the traffic police administration, Abdul Khaliq Shaikh, poor awareness regarding traffic rules and road safety were the main reasons behind the traffic accidents on Eid days. "If people stop at signals and don't violate the one-way traffic, then they would not suffer," said Shaikh.

According to him, the traffic flow turns towards the South part of the city because of entertainment spots in the areas of Clifton and Defence Housing Authority. During midnight, these visitors start going back to their homes, causing massive jams on their way.

"The second day of Eid becomes very critical. People mostly prefer to visit Sea View, causing traffic jams on the roads connected to these areas," Shaikh said, adding that the people don't follow traffic laws or look for safety measures. People come with their families on mini trucks without any safety gears which increased the risk of fatal accidents during these days, he added.

Published in The Express Tribune, August 12th, 2013.