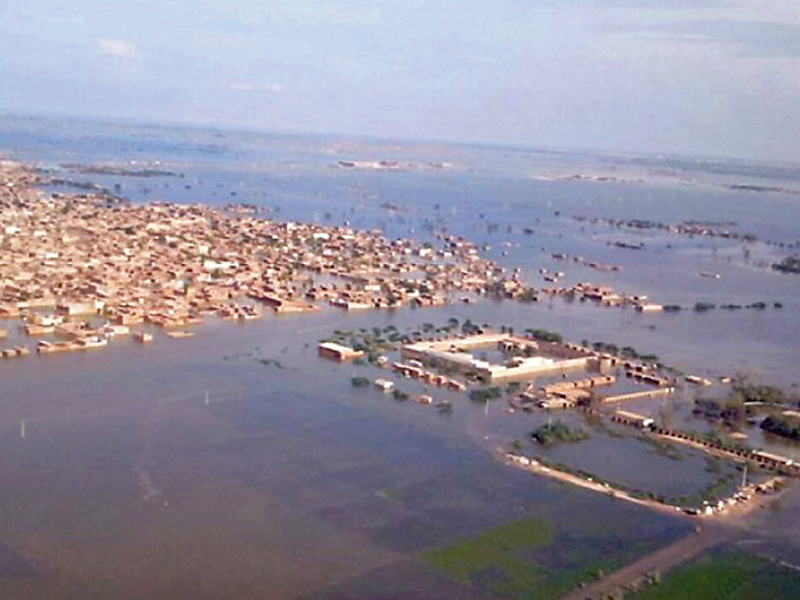 ---
KARACHI: The loss of human lives, displacement of people and damage to crops, livestock and property in recent rains and floods, the third such deluge in the past four years, have hurt the economy of Pakistan where about 50% of the population still earn less than $2 a day and remain below the poverty line 66 years after independence.

The floods caused by heavy rainfall in northern parts of the country have hit the economy in general and rural economy in particular where standing crops of rice, cotton, maize and wheat in southern areas of Punjab have been submerged across 32,000 hectares of farmland.

Similar flood damages have been observed in urban areas where infrastructure, roads and bridges have borne the brunt.

This situation reminds us of the troubles brought by 2010 floods, when 2,000 people died and millions were left homeless. That year, the floods caused $10 billion worth of losses and slashed economic growth by two percentage points.

The rural economy was severely damaged in 2010. The agriculture sector, which is considered the backbone of the economy, saw damage to 74% of cotton crop, 26% of rice crop worth $250 million and a third of sugarcane crop.

Losses to vegetable, fruit and fodder crops were estimated at $500 million. At least $200 million worth of wheat stock was swept away, mostly in Sindh. According to United Nations estimates, 17 million acres of farmland was destroyed by floods in 2010.

The livestock, which has a vital contribution to the agro-based economy, was affected badly during the deluge. According to the Livestock Department, more than $100 million worth of cattle was lost including 200,000 cows, sheep, buffaloes, goats and donkeys.

Apart from the rural economy, the urban economy also required injection of billions of dollars for rebuilding the damaged infrastructure.

Now, the question arises what has been learnt from the past and what has been done to minimise human and economic losses in case of disasters in future? The answer would be obviously "nothing".

The government spends billions on the National Disaster Management Authority (NDMA), but how much it is efficient to tackle such a situation, everyone has seen in recent floods.

In a country like Pakistan, losses increase as the government lacks resources to cope with natural disasters. With corruption rampant, state institutions lack the capacity to deliver results in calamity-hit areas, forcing the government to take 'costly' loans from foreign countries, which cause further strain on domestic finances as well as the economy.

The writer hosts business talk shows on FM 101 and Radio Pakistan and is pursuing M Phil in Economics

Published in The Express Tribune, August 12th, 2013.

Like Business on Facebook, follow @TribuneBiz on Twitter to stay informed and join in the conversation.