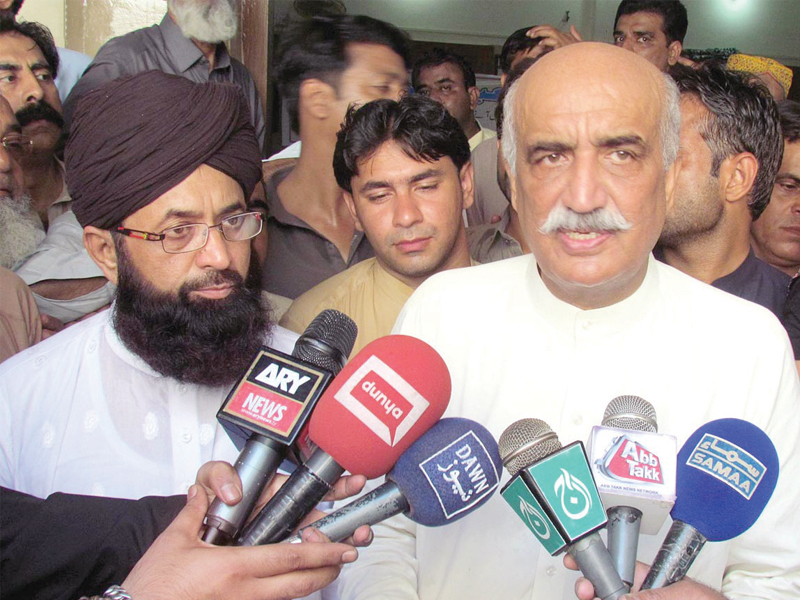 ---
SUKKUR: The leader of the opposition in the National Assembly, Syed Khursheed Ahmed Shah, has advised the Muttahida Qaumi Movement (MQM) to avoid riding in two boats at the same time, adding that the Pakistan Peoples Party will not ask MQM to join the provincial government.

Taking a jibe at the MQM, Shah said that this was politics and not the "Chabra of Allah Ditta, who is free to distribute sweets to anybody he wants to." He suggested that they should either side with the Pakistan Muslim League-Nawaz (PML-N) or with the PPP.

He made these comments while talking to reporters after the Eid Milan gathering at Madrassa Ghousia in Sukkur on Saturday. Expressing his anxiety over the increasing incidents of terrorism he said that, "I will protest against the government on its tight lipped attitude over the issue." He said that the government was only focusing on increasing taxes and inflation and he will raise the issue during the next session of the National Assembly. He suggested that the people of Pakistan make arrangements for their own security because the government could not protect their lives and properties.

Condemning the terrorist attacks on mosques and religious seminaries, Shah said Pakistan was a nuclear power and this scared the anti-state forces. He urged the government to take necessary steps to ensure security for religious clerics and institutions because terrorism was bringing a bad name to Islam.

Shah asserted that those bathing innocent people in blood could not be termed Muslims. Leaders of the Jaimiat Ulema-e-Pakistan, Mufti Mohammad Ibrahim Qadri, Musharraf Mehmood Qadri and others also spoke on the occasion.

Published in The Express Tribune, August 12th, 2013.
COMMENTS (5)
Comments are moderated and generally will be posted if they are on-topic and not abusive.
For more information, please see our Comments FAQ